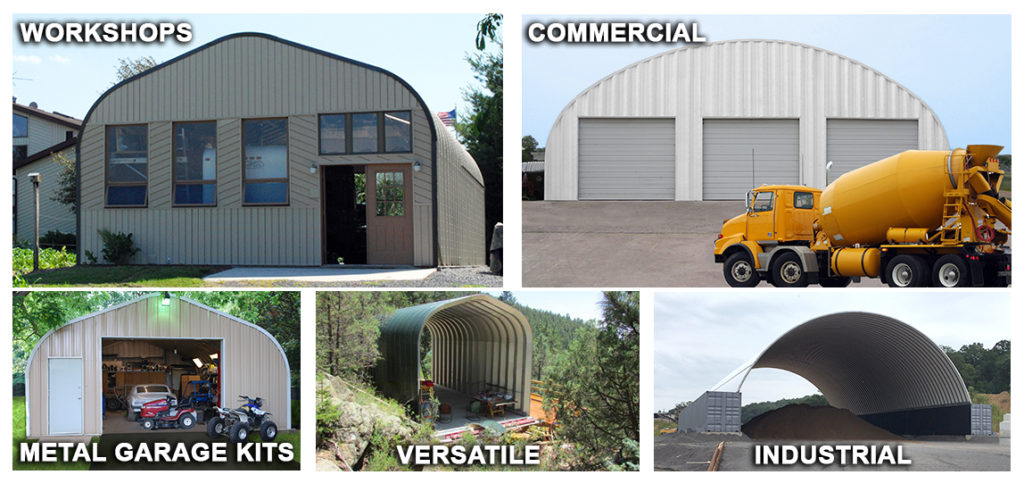 Metal Buildings, Steel Building Kits, Garages, & Workshops
Curvco pre-engineered steel buildings are 100% manufactured in America and distributed worldwide. Starting with only the finest commercial-grade US-made prime steel, our professional engineers design the most durable metal building kits for easy erection. It can be used for various uses such as garages, warehouses, workshops, metal sheds, prefab homes, agricultural storage, airplane hangars and more. With models ranging from 10-140' wide and any length, Curvco buildings can meet any Commercial, Industrial, Agricultural or Residential application and can be customized for unique solutions as well.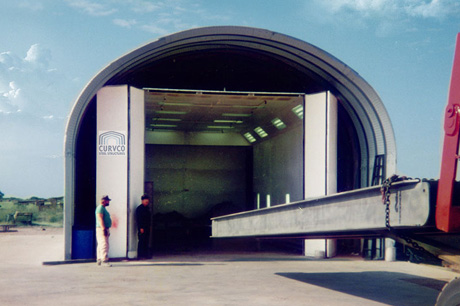 Light manufacturing, paint booths, pump shelters, water filtration, any custom Industrial buildings and can ship in two weeks.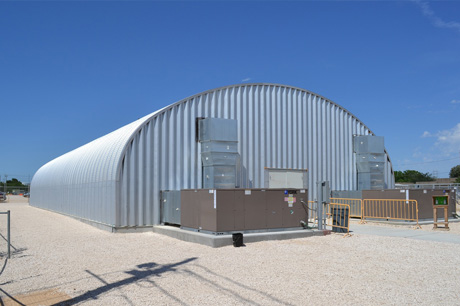 Commercial warehouse buildings, retail stores, covered riding arenas, office buildings and gymnasiums.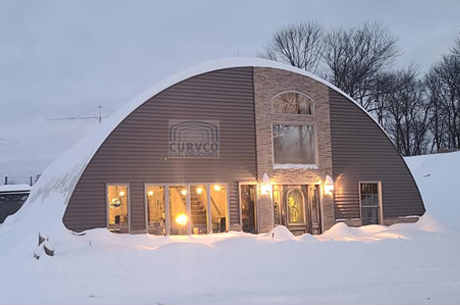 Build your own dream home with a DIY prefab steel house kit and save thousands in construction labor.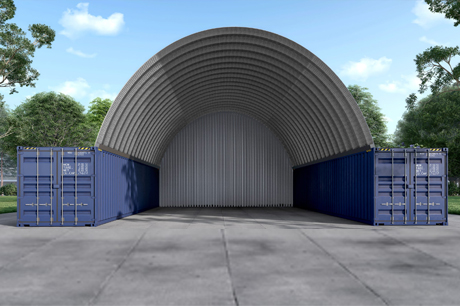 Roof kits for High-Cube, Conex and Standard containers available in Quonset hut kit designs.
SEE MORE ARCH BUILDING USES
Prefabricated Steel Buildings
Due to their superior strength, versatility and simple design features, Curvco prefab steel buildings offer an attractive and affordable building solution.  Curvco buildings are pre-engineered, efficiently manufactured with heavy gauge steel and sold at great steel building prices.  Whether you are an individual or a builder-erector under our national contractor program putting up a workshop building, metal building kits for storage sheds or commercial warehouse buildings for businesses, a Curvco building can meet your budget requirements.  Look over our metal building packages page for a list of prefab building kits for sale with great prices including offers like this:
SIMPLE, FAST DO-IT-YOURSELF CONSTRUCTION SAVE THOUSANDS OFF CONSTRUCTION LABOR COSTS
Curvco Steel Buildings are totally prefabricated, preformed, and predrilled.  Steel Workshop Building and equipment storage models can be easily put up without special equipment or cranes and come with a simple easy to read assembly manual.  With two friends you can build your dream workshop over a weekend.  A Curvco DIY steel building kit is very cost-effective because our construction costs are as much as 50% less than conventional building construction. The high profile Q-model and straight side arch buildings offer economical warehouse space and are very strong as they are made with super heavy gauge steel (14-22). They are designed for military-grade strength and have been certified by the US Army Corps of Engineers.
MAINTENANCE FREE - 40 YEAR WARRANTY
Curvco Steel Buildings are durable and built to last…and we back it up!! Every building comes with a 40-year rust perforation warranty backed by the US Steel Mill and Curvco. Only prime U.S. Galvalume® steel is used comprised of a specialized patented alloy coating on the metal virtually impervious to corrosion.
TOP NOTCH QUALITY AND ENGINEERING FLORIDA WIND CODE TEST AND APPROVED
With over 38 years experience in manufacturing prefabricated metal buildings, the owners of Curvco Steel Structures and the manufacturing facility combine the most advanced technology available with a seasoned team of professionals.  Whether the ferocious hurricane winds of South Florida or the destructive earthquakes of California, Curvco's prefabricated buildings are close to almost indestructible as they are designed and manufactured to withstand the most adverse climatic and seismic conditions.  These Quonset type steel buildings have been laboratory tested and are Florida code approved (FL-13036.1, FL-11815.1) against the hurricane-force winds. Curvco pre-engineered Florida Steel buildings have been shipped all over the world to countries subjected to hurricanes, typhoons and cyclones. Our steel building kits are especially popular in Caribbean countries including the Bahamas, US Virgin Islands, Antigua, Haiti, Dominica and Trinidad and Tobago. The wind strength required for approval in Florida is appealing to customers subjected to heavy island winds.
THOROUGH CUSTOMER SERVICE
The factory's long history in manufacturing prefabricated Quonset hut style buildings, combined with consistent plant procedures to maintain excellent quality has given the owners and employees a proven record of customer satisfaction. With a large part of the American manufacturing base moving out of the country, Curvco Steel Buildings recognizes the critical importance of not just excellent quality but also dedicated customer service. For this reason a building specialist and customer service representative is assigned to every customer to provide dedicated assistance before, during and even after the delivery of our buildings. Many local builders and contractors from Pennsylvania, Ohio, West Virginia and Maryland come directly to the factory to pick-up their buildings or components orders. If you need a steel building price or are interested in dealer opportunities call today 1-800-748-7188.
Listen to how our customers feel about Curvco

Homer Cameron
Cameron Lumber Homer City, PA
"We run a commercial sawmill operation and I bought 4 Curvco arch buildings to use for our by products, the boiler building and equipment storage. We picked up the buildings right at the Factory, and everything went smooth putting them up ourselves. I recommend Curvco Steel buildings, it's the best decision I made when I built the mill."
***Price comparison based on different steel buildings, sizes and types of construciton