Arch Steel Building Features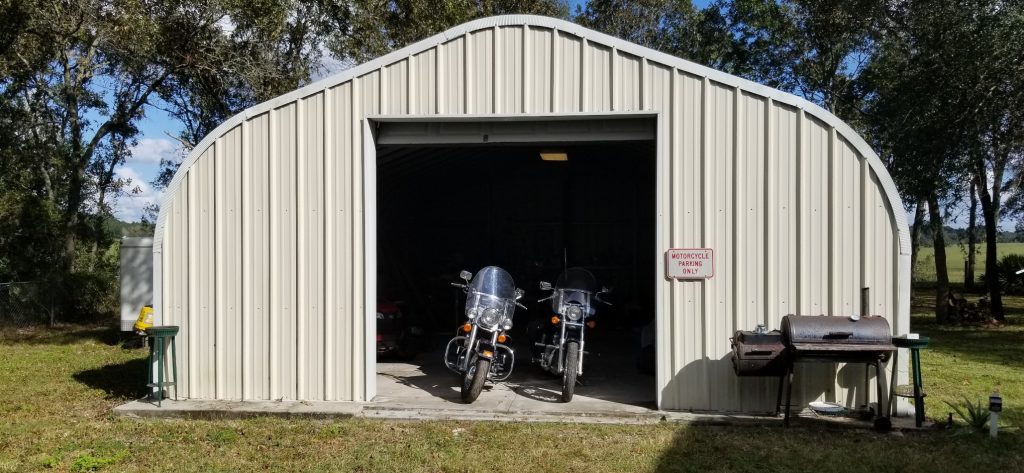 Galvalume® Steel Construction
Curvco Steel Structures are truly U.S.A Buildings as they are manufactured in the U.S. using 100% Galvalume, the finest quality commercial steel made in domestic US Steel mills.
Galvalume is a coating on the steel substrate that is applied at the steel mill. This coating is a mixture of some of the most durable metals including Aluminum (55%), Zinc (43%), and Silicon (2%).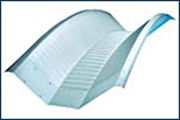 The advantage of Galvalume is the aluminum's ability to create a highly corrosion-resistant oxide film combined with the sacrificial action of zinc. The end result is a coating that provides excellent corrosion resistance on the sheet (steel panel) while still providing cutting-edge corrosion protection.
This unique coating forms an almost impervious (impenetrable) shield over the steel; in laboratory testing, it has 7 times the resistance to rust as galvanized. It is extremely effective, especially in regions subjected to corrosive environments or acid rain. For this reason, Curvco offers a 40-year non-prorated warranty against rust perforation.
Arch Building Factory Direct
Curvco arch metal building kits are shipped on compact skids direct from the factory. This allows for multiple buildings to ship on the same truck for huge community freight savings passed on to the customer.
Compare and save on our Metal Building Kit Prices!
Steel is a vital part of our everyday lives from the cars we drive, the trains we ride, the appliances that make our lives easier and much more. Steel is durable and the most recycled material on earth. The steel industry has invested in the latest technologies to make steel more innovative, lower in cost to you and stronger than ever. Here are just some of the benefits of building with steel
Curvco steel hardware consists of a one-size nut-and-bolt for the entire building! The bolt features a super resilient JS-1000 clearcoat coating. In a military Kesternich saltwater cabinet test, this bolt withstood over 1000 hours without showing any surface rust! (A standard hardware bolt only lasts 70-90 hours.) The United States Army Corps of Engineers has certified this bolt as superior in applications for the US Armed Forces. Just another way Curvco can save you time and money while providing the highest quality product!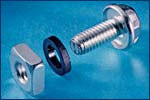 Prefabricated Arch Steel Buildings
All the steel building arch and end-wall panels are prefabricated, pre-formed and pre-drilled for easy installation and assembly. No field welding is necessary. Since the lip and the last 9 inches at the end of each arch panel are flat, the arch sections bolt together super-tight, as the bolts only rest on flat-to-flat steel.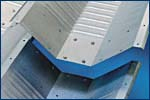 When the prefab arch building panels are bolted together and overlap from panel to panel, and, at each lip every 2' down the length it doubles the steel thickness. This overlapping or "doubling" of the thickness simulates having a steel beam every 2' down the length and similarly simulates having a steel reinforcing plate wherever the panels bolt together. This redundant engineered design combined with the deep corrugation and heavy gauge of the steel makes the Curvco Steel Building an incredibly strong pre-engineered metal building.
Curvco arch steel buildings have been pre-engineered and designed to meet your local wind, snow, and seismic conditions. Since Curvco structures are based on an arch configuration with a deep corrugation using heavy-gauge steel, it enables them to withstand hurricane-force winds, the heaviest snow loads, and even tremendous seismic activity. They have been laboratory tested against hurricane-force winds and approved for use by the state of Florida (FL 13036.1), (FL 11815.1).
Curvco Steel Arch Buildings' standard models can usually accommodate virtually any application. In cases where a customer has a unique application, our engineers will modify existing models or custom design a building solution. Using CAD (computer-aided design) software they can easily tailor the product to accommodate often difficult criteria all at a significantly lower cost than conventional construction. It is because of this ability and attention to customers' needs that Curvco has cultivated years of repeat business from many Fortune 500 companies and Government agencies. Here are just some of the custom or special uses Curvco can design Quonset arch buildings for:
We offer a selection of very useful accessories to customize and improve the functionality of your building. These include personnel doors, skylights, vents, exhaust fans, energy star fiberglass insulation systems for Quonset steel buildings. Please visit this informational page to learn more about these accessories and their benefits.
One of Curvco Arch Building's most popular options for residential buildings is our selection of colors. Color can be added to any Arch building for an additional charge.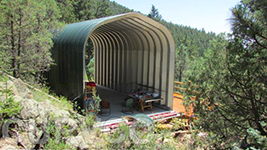 METAL BUILDING COMPARISON
| Curvco Steel Structures Standard Building Features | |
| --- | --- |
| From 10' – 140' wide, custom design applications available | Limited to only 70' wide, no custom design engineering |
| 40 Year Warranty on color coatings by Akzo Nobel and manufacturer | Color not available or only 15 – 20-year warranty |
| 40 Year Rust Perforation Warranty on Galvalume Coating backed by steel mill and manufacturers | Galvanized steel with no warranty |
| 100% US Buildings, USA made with USA steel; meets Buy American, and American Recovery Acts | Foreign-made can't meet Buy American or quality standard and sourcing requirements |
| Approved by US Army Corp of Engineers (USACE) meets military specifications | Does not meet USACE Specifications |
| Engineer certified design for the USA, Canada, Euro Codes | No international approvals, limited USA State of certifications |
| Superior tensile strength, high yield 80,000 KSI Galvalume steel and 50,000 KSI if bid specifications require it | Use lighter tensile 33-37 KSI steel |
| Pre-fixed assembled durable polyethelyne washers on bolts | No washers, or cheap rubber washers that dry out |
| Standard, Grade 8, 1500hr KC tested bolts, optional stainless, Grade 5 and Grade 2 with 1,000hr KC salt spray test | Grade 2 bolts only, none others |
| Consistently high tech quality control on a fully automated production line with robotics | Manual production with inconsistent quality control. Problems in the field |
| Independent laboratory testing to verify certifications as required for USACE military projects | No testing on material for quality control |
| Prefabricated, Preformed and Predrilled no welding or no drilling required | Not predrilled, pilot spot holes require high labor field drilling to ream out |
| Reduced freight cost by coshipment with other dealer orders | Expensive single freight shipment cost |
| 24-hour construction toll-free hotline assistance even available after hours for the do-it-yourselfer. Dedicated customer service | Limited assistance, no 24 hour or weekend and holidays service |
| Energy Star rated, LEED Compliant Galvalume steel quality for tax credits and may subsidize utility rates lower | Not Energy Star rated, not LEED compliant, and does not qualify for tax credits or reduced utility rates |