Crop Storage Steel Buildings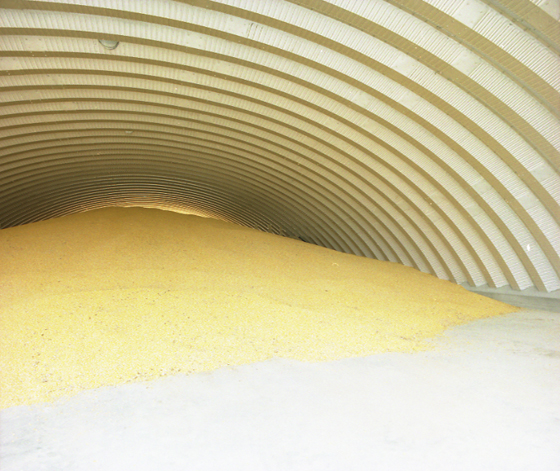 Curvco Crop Storage Buildings offer the most efficient and economical solution when used as a bulk commodity, grain or corn storage building. One of the biggest advantages of grain storage arch building is that they cost less than grain storage bins or grain storage barns. Unlike grain bins, they also can be used for other purposes like equipment storage or farm repair shops when not filled with agricultural commodities. Since no special side or roof linings or bracings are typically required for crop storage in a Curvco structure, there are additional savings in both construction time and materials.
Get a custom online quote on a crop storage building now!
Or call 800-748-7188 about grain, wheat and corn storage building models to protect valuable crops from the weather
Advantages of Curvco crop storage buildings:
Curvco corn and grain storage systems allow for fast construction and are perfectly suited to protect your valuable crops. The building can be erected on a flat concrete pad or elevated on a wall. Aeration tubes attached to exterior fans can easily be run across the building's floor to ventilate the crops. This prevents excessive moisture which can cause mold and they also help dissipate any methane. Grain is easily loaded through the top of the building using an auger conveyor for uniform distribution. Many customers install a low-cost removable bulkhead at the door opening for grain retention at the door opening.
Contact Curvco Steel Buildings to talk with the technical services department to learn how effective and affordable our crop storage buildings are!