Curvco has been supplying Quonset Hut Homes worldwide for over thirty years. One thing these Quonset homeowners can agree on is the simplistic construction process and strength of these structures with their ability to combat heavy snow and hurricane-force winds.
A Quonset House Kit is popular because Curvco's arch design has a 100% clear span interior which allows the homeowner to customize the floorplan without any obstructions.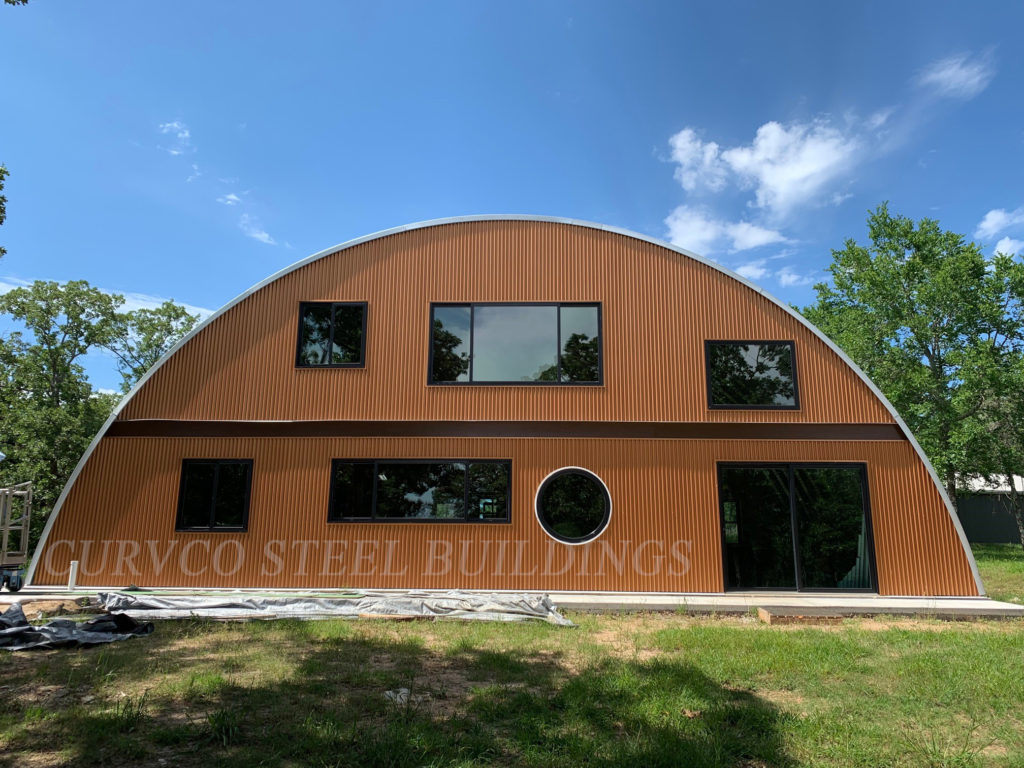 Quonset Steel Buildings are still used today for the same reasons they were popular during the 1940s. They significantly cut down on construction costs especially with Curvco's contemporary arch buildings where the majority of the erection is completed on the ground.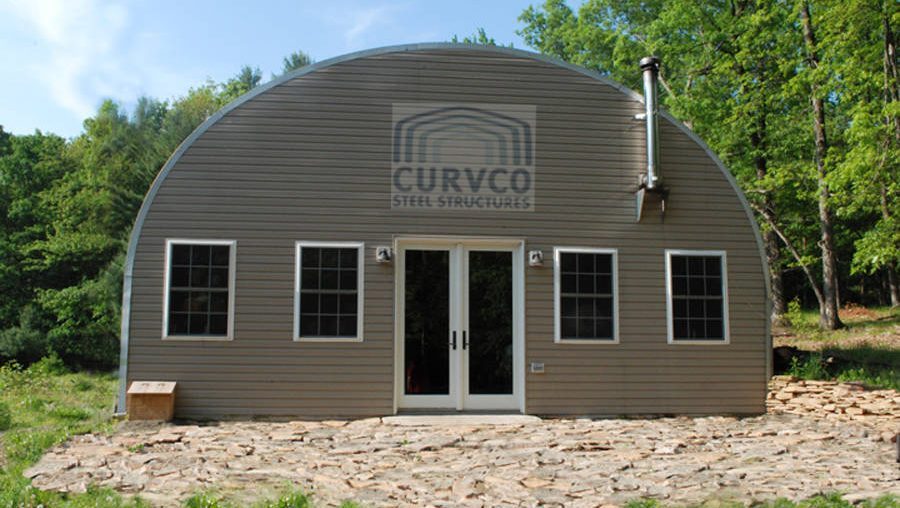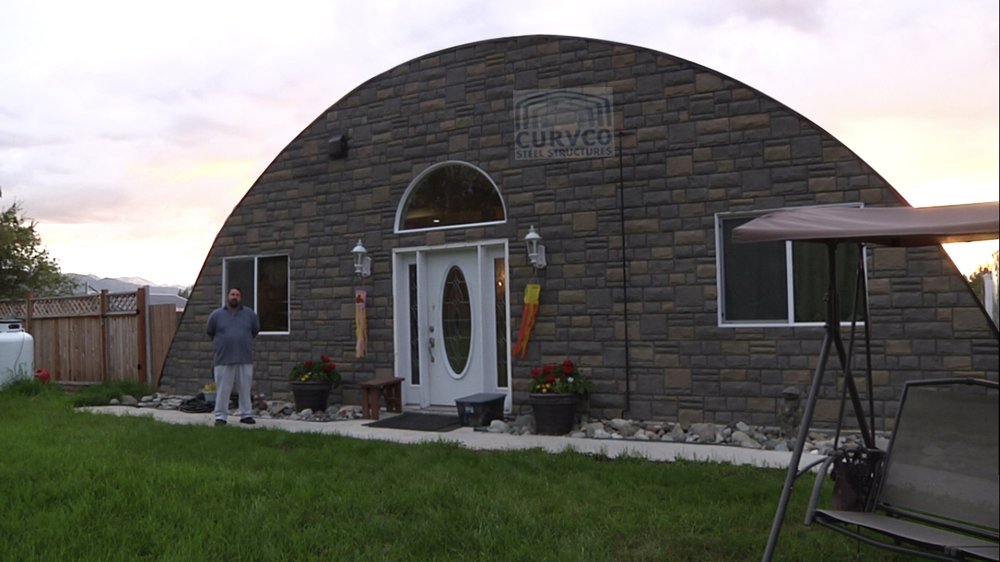 For over 38 years customers have been using Curvco Arch steel Buildings to build their dream homes.
Our Quonset Building kits are the most economical way to construct a building. They have proven time and time again, that their incredible strength and easy-to-assemble legacy goes unmatched.
Assembling the steel arch panels of your building with your own general labor will save a tremendous amount of money since you won't have to pay skilled and expensive contractors. Last but not least, they are fast and easy-to-assemble even in remote locations.
Get a custom online quote on a Quonset House Kit now! Or call 800-748-7188 about available specials in inventory that can be shipped immediately factory direct to your site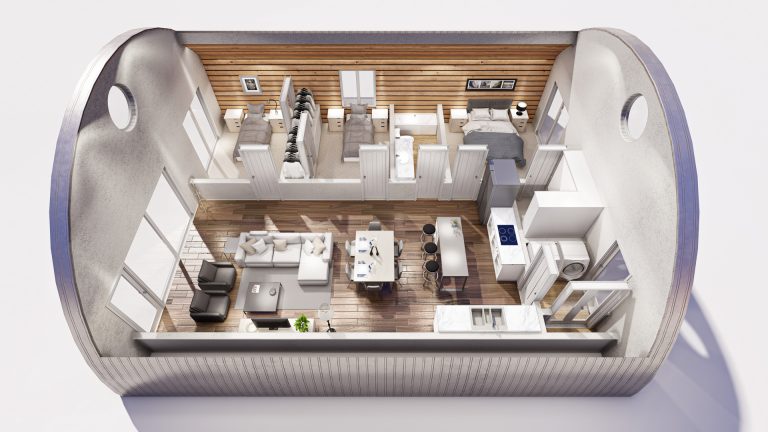 When looking for Quonset hut homes for sale in the form of building kits, the freedom to customize all aspects of the building makes these steel structures truly unique.
You can create your own vision by building your own endwalls dressed in finishes and materials of your choice including vinyl siding, stained wood, stucco, masonry or panoramic glass fronts which offer exceptional natural light and beauty.
The Quonset home interior is fully customizable once the steel arches are raised and the endwalls are installed in place. With a convenient wide span design and an interior that includes no posts, trusses or beams, you are able to utilize all of the space inside without having to worry about supportive beams.
You can easily customize the ends of your building with decorative features, porches and balconies.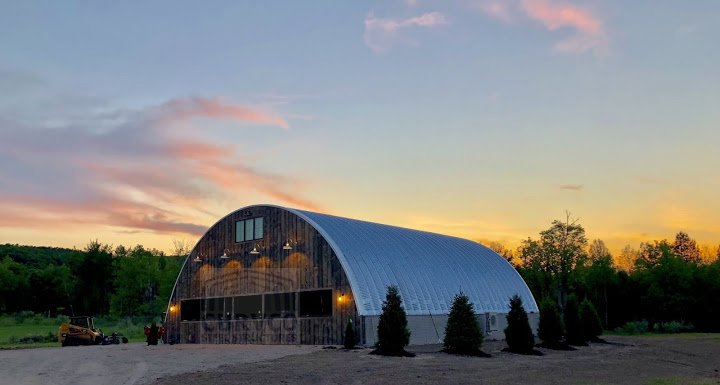 Using a large span Quonset Hut Kit will give the customer a few additional choices for layouts and designs. The high profile models that span 18'-24' tall are perfect for increasing interior space by adding a loft or second floor.
Many customers will transform their large span arch buildings into a 2nd story prefab home.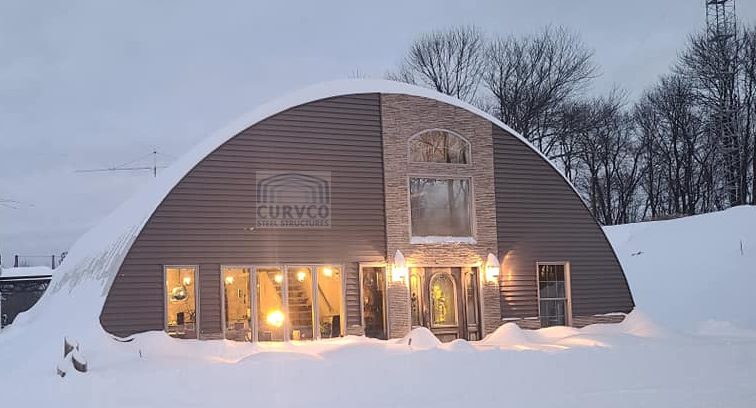 Quonset Arch building homes are becoming a more popular low-cost solution to affordable housing. These roofing systems are most popular among designers and architects and rightfully so as this is a smart, low-cost option to achieving a contemporary feel.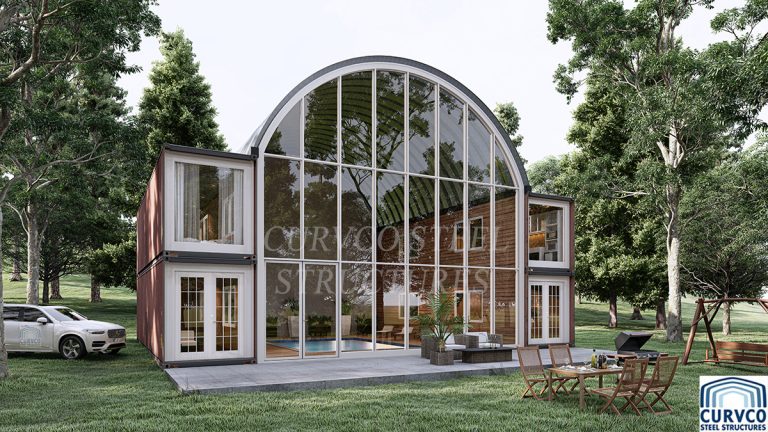 Our roof kits for shipping containers make for a perfect accessory to any shipping container home as they provide additional covered space, and with the added endwalls, will fully enclose the structure.
They are equally effective when being attached to concrete walls or eco-blocks.
When comparing the construction costs of a DIY Quonset hut to a straight-wall or I-beam building you notice a significant difference. Curvco structures are engineered for the customer to erect on their own. Since you or a few friends will be erecting the building, the cost to erect it is negligible by comparison.
Try erecting one of our small Quonset hut sheds and see for yourself how easy it can be!