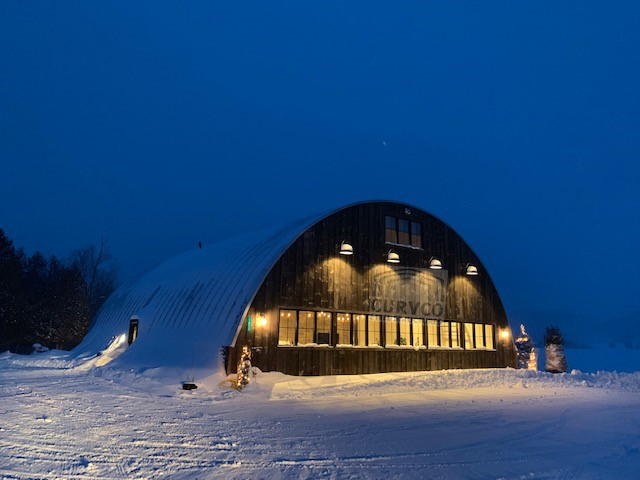 A Curvco Quonset Hut is the most cost-effective prefab steel building on the market. Our arch-style metal buildings are pre-engineered in standard sizes and models but we offer a wide variety of custom sizes. We use heavy gauge steel manufactured with only American labor.
Combined with our high-quality materials and simple design, the Quonset hut is one of the strongest buildings available. They are extremely easy to conceptualize and offer versatile solutions to everyday storage problems or any industrial application.
Our Prefab Arch buildings are generally used for Agricultural Farming, Residential garages, Steel Homes, and shop buildings.

Quonset Building Kit construction saves up to 50% on construction costs compared to conventional methods and you have full control over the pace and quality of your own project.
Curvco offers the ability for you to customize your own endwalls. They can be studded up and dressed with vinyl, wood or a finish of your choosing. Because of the wide span of these building kits, one-hundred percent of the space can be utilized.
Curvco's building kits offer DIY Construction and are by far the best approach to constructing steel buildings. The simple design offers Q model arch buildings with only one size nut and bolt hardware, which means they go up fast and easy.

All that is required for most garage models to start are basic household tools, makeshift scaffolding or ladder and some rope.
A Quonset for sale by Curvco is backed with exceptional customer service. Our steel Quonset price is most competitive and offers an exceptional 40-year warranty backed by the US Steel Mill. Most commonly misspelled Quonset spellings include: quanset hut, quansat hut, quanza hut and kwanza hut.
Learn More about our DIY Kit features and benefits!
Our building kits offer efficient diy design which provides huge savings across the board. In most cases these structures can be assembled using general labor which further reduces the steel building cost compared to conventional construction methods. 
There is no denying that the Quonset is the strongest steel Arch building in production. This structure has created a reputation for itself as the fast, easy-to-assemble and solidly strong building.
The metal building industry began manufacturing hybrids of the Quonset style Design.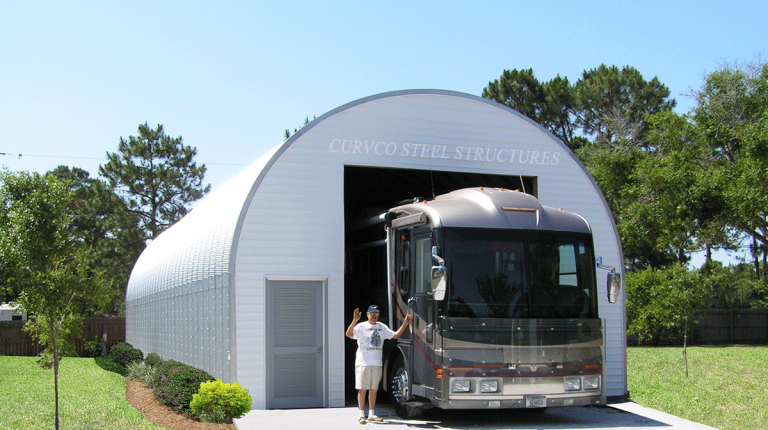 The only difference was that these new models included straight sidewall clearance which the original design did not offer at the time.
This steel S-Model is perfect for an RV Storage Storage building which allows for high clearance and ample room to work with tall sidewalls. Curvcos straight wall arch building models can save up to 40% off the price of conventional construction.
Quonset Hut prices remain the most cost effective and competitive in the steel building industry. Learn More about Quonset Pricing compared to other building types.
Quonset Hut Homes are a more personal, customizable, and economical way of providing housing for a family. Because of their clear span design, the interior can be utilized for maximum living space. Full customization is possible based on your vision as you layout your Quonset plans. Build a dream home or garage of your choice using a DIY Steel building kit.
Whether you need a one bedroom, two bedroom or three bedroom clear span home, there is a Quonset Hut size and model to suit your needs. These Quonset huts can be easily insulated using 3″,4″,6″ fiberglass insulation.
The Q-Series is offered in 14-22 heavy gauge steel and ideal for industrial applications due to its protective galvalume coating and high-quality composition.
Learn more about customizing your Quonset Hut Kit Home and the different options and features that can be included in your home purchase. 
Get a custom online quote on a Steel Quonset Hut Or call 800-748-7188 about available specials in inventory that can be shipped immediately factory direct to your site!
The most frequently asked question is do we provide services for erecting and installing Quonset steel buildings? Curvco has factory approved installation crews who have experience erecting steel buildings in most states. 
While our Quonset Buildings are designed for a do-it-yourself prefab building system, some corporations and individuals want a contractor to erect the building.
When corporate customers don't want to construct the  building themselves, we can provide an expert erection of Curvco Quonset Buildings at affordable cost per square foot. (Call 1-800-434-4893 for Pricing). Highly-competitive pricing and expert knowledge make this option less time consuming for the customers who are busy with their day to day obligations.
It is our belief at Curvco that our prefabricated steel buildings are designed to be a low-cost solution to everyday storage needs.
Learn more about Curvco Management history in the evolution of Quonset Style Buildings.