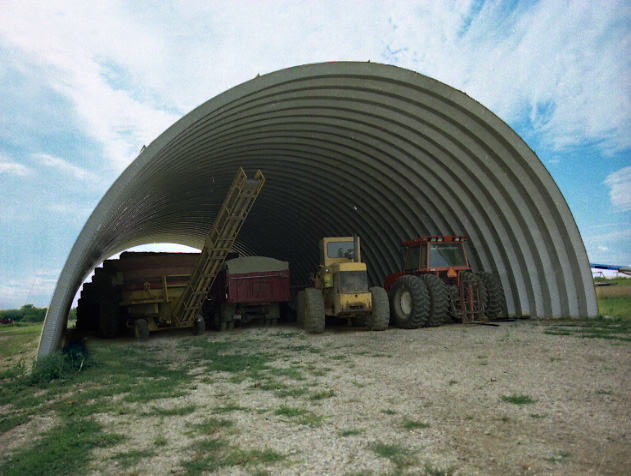 Across the United States, farming communities have relied on Curvco steel farm buildings for a wide variety of steel storage solutions. These metal barns are ideal for equipment repair, crop or hay storage sheds, and farm workshops. The uniquely designed prefabricated farm buildings can be quickly assembled without any heavy machinery or costly contractors.
With the food and farming industry being worth over a trillion dollars to the U.S. economy, it is important that the commodities that the farmers grow are kept in a dry and secure location as to not contaminate the crops.
Curvco Steel Buildings provides an excellent selection of farm building types in relationship to storage solutions for your farm. Steel Farm buildings can be customized to adapt to virtually any environment or surroundings.
Most popular for our low-cost hay storage barns, we can incorporate ways to make storing your precious items more simple. With big farms come big farm equipment responsibility, which usually means there is no time to waste when it comes to space!
Since there also are no roof trusses, corn or grain can be easily top-loaded into the farm building for crop storage through the roof without obstructions.
Equipping one of our agricultural steel buildings with a heavy-duty double slider door can do the trick. Incorporating one of these 16.5H x 28W slider doors into a small farm building will drastically increase the flow of movement in and out of your farm building, increasing efficiency and production.
Metal Farm Buildings For Sale
Many customers choose to use our Metal farm buildings over conventional construction methods as they are easy-to-assemble, low-cost alternatives. Included with each farm building kit is a series of foundation and erection manuals which provide an easy-to-read solution to erecting the structure.
Steel farm buildings are changing the construction industry in a way they did not expect. By constructing your very own DIY building kit, you can save hundreds if not thousands of dollars compared to expensive and time-consuming contractors.
Each arch steel panel overlaps the other and creates a strong corrugated fit which increases the structural integrity of the building. Farm building kits include all of the hardware necessary for an easy installation. They are stacked like Pringles potato chips which make them compact and portable to ship anywhere in the world!
These farm storage structures are perfect for the do-it-yourselfer who recognizes the value in fast and easy assembly. Many customers use basic equipment to raise the arches into place. Renting equipment is not a requirement for these buildings.
Curvco Steel farm pole buildings are extremely strong and durable compared to the old wooden pole barn style. They are slowly becoming outdated as our steel arch buildings are composed of no wooden components, coated in galvalume steel, and offer a lifetime of maintenance-free use.
Steel pole buildings are fire resistant and non-combustible which prevents unexpected barn fires which if not properly monitored, can cause great damage. All of the Rodents, pests, and birds have nowhere to perch or nest above your work area which helps to keep the shop buildings free of contamination.
Metal pole barns do not have the problems frequently found in wooden pole barn buildings including warping, sagging, knot defects, termites, and costly re-paints. This means no downtime due to facility repair allowing you to concentrate your precious resources on ensuring your farm's profitability.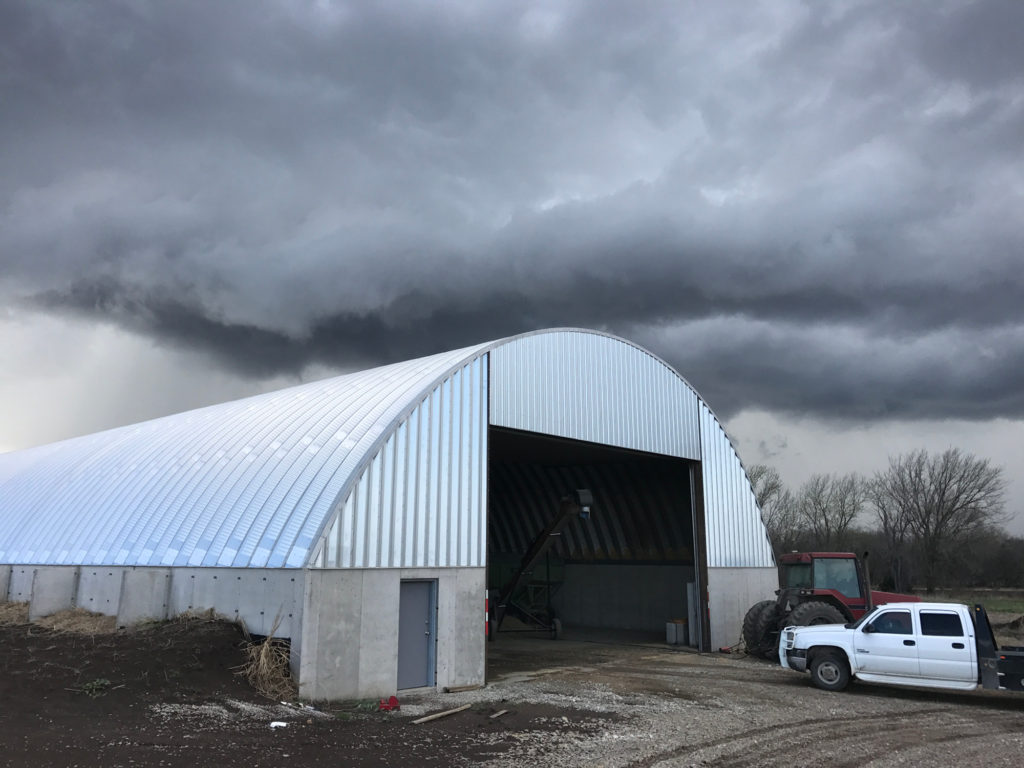 A typical 30x40x16 metal building with endwalls supplied from the factory costs $8-$12 a sq. ft. depending on location and the building code requirements for that area.
With over 35 years of experience in the metal building industry, we have worked with thousands of customers in planning their farmhouses to include a wide variety of options and conceptual layouts.
We provide standard, non-standard and custom size buildings and will work with you to determine the best application, size, and accessories for your storage needs. Click Here for a list of our clearance steel buildings for sale.
Listen to how our customers feel about Curvco
Walnut Cove, North Carolina
Agricultural Building
"I bought this agricultural steel building from Curvco Steel Buildings for my farm back in 1991. I use it to store hay, straw, equipment, sweet potato bins, anything I need to keep dry I put in this building. The diagrams and blueprints were very specific. I erected the building with myself and some farm labor. We did not have to rent any special equipment. Everything went together real easy. I am very happy with it."
"Later a friend of mine put up a 52×110 building of the same style, and I helped him put it up too! I highly recommend Curvco Steel Buildings."