Commercial Steel Buildings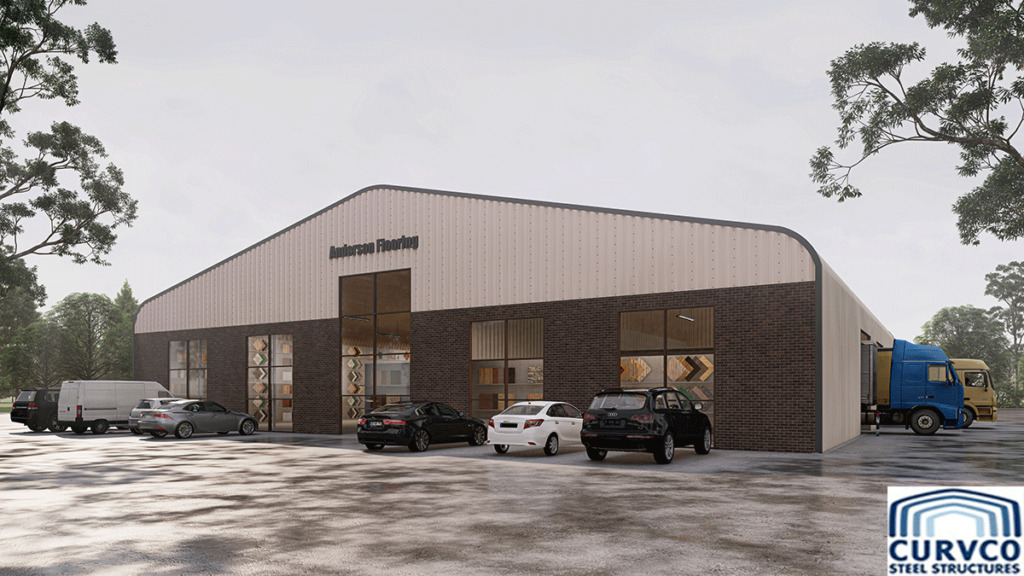 Prefab Commercial Metal Buildings offer a simple fast and economical way to build. If your business needs new or additional office space, dormitories to house employees, warehouse storage or a distribution center, Curvco Commercial Steel Buildings will provide the fastest solution to any time constraint or budget requirement. These all metal commercial buildings are designed to be easy to build and maintenance free to get and keep your business up and running.
Since the Curvco Steel Structure design is totally prefabricated, preformed and predrilled, they can typically be erected very quickly with general labor both without any cranes or expensive equipment saving you thousands in both construction labor and potential delays. If your company is operating under a schedule crisis, Curvco's EXPRESS DELIVERY allows for shipments of many models in a maximum of 2 weeks and as little as two days (depending on your location) which means no downtime for your operations.
Only American manufactured Galvalume® Steel is used in Curvco Steel Structures and it is guaranteed against rust perforation for 40 years. Therefore the savings from Curvco's fast, low cost construction are further complemented by many years of repair-free service.
Get a custom online quote on a commercial metal building now!
Or call 800-748-7188 about clearspan buildings that can be shipped immediately factory direct to your site
Curvco Steel Structures are completely clearspan so there are not any posts or beams in the building's interior floor space. This makes the buildings ideal for warehouse applications as forklifts can operate unobstructed. A low loft or second level for low-cost storage can easily be installed at the time of construction or at a later date. Whether you are an oil company or a relief organization that needs dormitories to quickly house employees, or a school that needs an inexpensive classroom, Curvco has the ideal building solution for you. Future expansion is also very easy and fast as you simply unbolt the end and add on additional spans!!
Get a quote on your custom specifications today or let us help you select a building kit to fit your needs.
Miami, Florida Steel Warehouse
"I am very satisfied; I use it as a warehouse. The good thing about this structure is it can withstand winds up to 150 mph, which is very important here in South Florida. I highly recommend this building."