Curvco Steel Building Reviews and Testimonials
The following are just a few comments from some Curvco Steel Buildings customers. Listen and watch what our customers really think.
Is your Building for the Military or a Government Agency? Check out our Government building references.
Palmer, Alaska
Prefab Steel Home
"It was easy to put up, we erected it in 2 days, its held up just fine We can get upwards of 3' of snow in one day and the building holds it with out any trouble…you don't have to get up and shovel the snow off of it. I really like that it's American made."
Miami, Florida Steel Warehouse
"I am very satisfied; I use it as a warehouse. The good thing about this structure is it can withstand winds up to 150 mph, which is very important here in South Florida. I highly recommend this building."
Dennis and Patricia Bryan
West Decatur, Pennsylvania Metal Workshop Building
"I use it for storage of my camper, work on cars, whenever in the winter I need to get out of the house, it's kind of a man's cave. Curvco was real cooperative, they were real good with us. I recommend Curvco Steel Buildings to anybody that needs a metal garage building."
Walnut Cove, North Carolina
Agricultural Building
"I bought this agricultural steel building from Curvco Steel Buildings for my farm back in 1991. I use it to store hay, straw, equipment, sweet potato bins, anything I need to keep dry I put in this building. The diagrams and blueprints were very specific. I erected the building with myself and some farm labor. We did not have to rent any special equipment. Everything went together real easy. I am very happy with it."
"Later a friend of mine put up a 52×110 building of the same style, and I helped him put it up too! I highly recommend Curvco Steel Buildings."
Cameron Lumber Homer City, PA
"We run a commercial sawmill operation and I bought 4 Curvco buildings to use for our by products and boiler building. We picked up the buildings right at the Factory and everything went smooth putting them up ourselves. They are ideal for woodchip and sawdust storage. They are very versatile, I have had my dump truck totally extended and had plenty of room. One of the buildings we used to house an 800,000 btu boiler that heats the sawmill yet the heat doesn't affect the building whatsoever. I am very satisfied with my Curvco steel building, it's the best decision I made when I built the mill."
Pollock Pines, California Steel Garage Building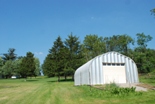 "I bought my first garage building kit in 1993 and another in 2002. I put it up myself and its been a great workshop. I am in my 80's and still use it all the time. When people ask where I got it, I always recommend Curvco Steel."
Ocala, Florida Metal Garage Kit

"I really love the building and there is so much room inside. It stays cool even when the sun is out. I put it up myself with some friends. It wasn't hard to build."

"Our contractor suggested we buy local.  We had talked by phone with several other companies.  He went to your factory to pick up the materials."
"Your employees helped us choose a building size.  We had a one car garage and wanted to go to a two car garage plus storage area.  The size recommended works well for us.
"The reason we bought the steel building was for the cost and durability.  We tore down a wooden garage.  The prefab steel garage kit should out last the wooden garage by years.  The wooden garage was up for 15 years and it was all rotted and needed paint every two years."
"The steel garage building is strong.  We get comments all the time from friends and strangers.  Even our mailman stopped to check out our garage.  It looks so nice and blends well with the area that we have."
We just LOVE our American made steel garage.  It is durable and affordable and a conversation piece.  We use our garage for our car and truck.  I don't like to park out in the weather.  Plus we have storage for our outside furniture and all our other things we want to place in the garage."
"Would I recommend an American made Curvco Steel Structure – In a heart beat!"
Satisfied Customer
Mary Jane Snyder
Bulger, Pennsylvania Prefab Garage

"My wife and I erected our RV storage building ourselves 6 years ago when we were both over 70 years old already!! Last year there was over 102" of snow and the building held up fine. I feel comfortable storing my RV and classic cars in the building because it's so strong. We enjoy the open road and going camping so it's important to have a reliable shelter for our vehicles. I would definitely recommend Curvco to someone needing a metal building to store their RV or other vehicle in."
At Curvco Steel Buildings every employee understands nothing is more important than complete customer satisfaction. We are proud of the fact that our company boasts one of the highest repeat order and recommended or referred customer purchase rates in the industry. This has been achieved by responding quickly to any customer comments, complaints or questions, addressing them and helping customers resolve any concerns. We value your opinion and take any customer feedback very seriously as it helps us to improve our product and service. Curvco Steel Buildings are of the highest quality, backed by top notch customer service in order to keep our American manufactured pre-engineered steel buildings the most competitive. Please submit any comments or feedback we really appreciate it.