Prefab Steel Buildings Simplify The Building Process
Curvco Steel Buildings are the easiest, simplest and fastest prefab steel buildings to erect. They require only a couple of friends to contribute a little bit of labor and no heavy equipment is required. All the steps necessary to assemble a Curvco metal building are included with the building in the form of easy to follow, detailed build-it-yourselfer manuals and drawings. We are happy to show you how to build a metal building in the video below to give you an idea just how easy and quickly you can put a Curvco building up. The building is a Super "S" model 30' wide and 16' tall, was built in 1991, and is currently being used as a workshop and photography studio. Curvco prefab buildings stand the test of time.
Curvco Steel Buildings save time and money by simplifying the building process! Our prefab steel buildings go up in four easy steps. This do-it-yourselfer process will save you thousands off labor costs. No special tools are required! Follow these simple instructions: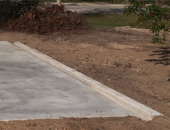 Level the perimeter area of your site. Due to the efficient design of Curvco Steel Buildings, the Factory requires only a floating foundation. An extensive frost depth footing is not required by the engineering department. Optional base connectors are available for pre-existing foundations or walls.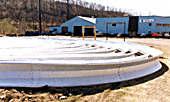 Curvco buildings are simple to erect because 60% of the construction is done right on the ground. Simply bolt the building panels end to end into arch spans. The 5/16 hexagon head bolts are all prefixed with durable nylon no-leak washers that fit snugly under the head of the bolt. Since the last nine inches of every arch panel is flat, the arches overlap very tightly when the panels are bolted together. Every bolt rests on a flat surface, not a ribbed or corrugated part of the panel, so you get an extremely tight seal for a secure, always dry building.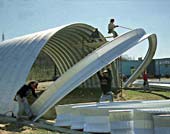 Since the buildings are clearspan and truss free, most models do not require any heavy machinery or cranes to erect the building. Just attach a rope to the arch spans and pull them up, each one after the other. Basic general labor can be used and the Curvco erection manual simplifies it for the do-it-yourselfer.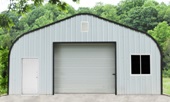 Curvco Steel Buildings' endwalls are precision manufactured for a tight leak-proof fit. Every panel is carefully numbered at the Factory and an easy to follow endwall sequence drawing is shipped with the manuals. The result is not only a great fit, but ease of installation as well. While Factory colored endwalls are provided as an option, many customers create their own custom endwalls to complement their application or enhance the design of the building.