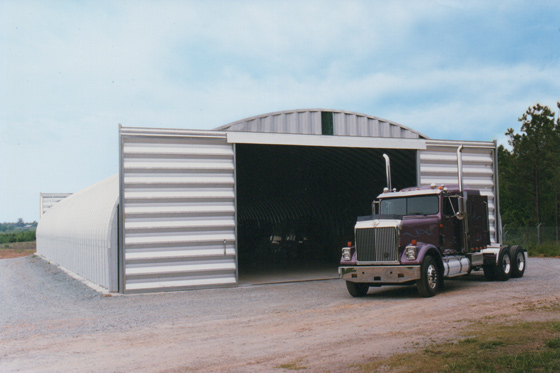 Curvco Steel truck garage buildings are the ideal solution when used for truck repair shops and truck storage buildings. With the rising cost of fuel and the competitive environment in the industry, trucking companies need economical shelter to protect and repair their vehicles in. Our arch style truck garage buildings are totally prefabricated for self-construction and ideally designed for different truck applications.
Get a custom online quote on a truck storage building now!
Or call 800-748-7188 about buildings in inventory that can be shipped immediately factory direct to your site
VERSATILE SINGLE OR MULTI-BAY TRUCK GARAGE KITS
Since Curvco Steel Buildings have no roof trusses, posts or beams, there are no obstructions caused by framing in the building. This allows full use of the height of the building for tall trucks including working above the vehicles, on the exhaust, scoops or trailers. Whether you need a narrow truck storage building for a single bay tractor repair facility or a wider clearspan metal truck garage for a multi-truck terminal, Curvco's wide selection of models can accommodate your particular needs. Since there is no interior framework there is no place for birds or rodents to lodge above your vehicles and cause a mess on your equipment and shop floor.
If you need an affordable truck shop building on a tight time frame, Curvco is the only option to consider. Many of our prefab truck building kits can ship in as little as only one week and you can even pick it up at the factory and save even more!!! These truck buildings are simple to erect and a typical 4-bay repair facility can be completed with general labor within 7 days once the concrete floor is finished. Once the building is erected it is easily insulated using different options, making it extremely energy efficient.
SEVERAL APPLICATIONS – TRUCK WASH BUILDINGS, TRUCK REPAIR SHOPS
Curvco metal truck buildings can be custom manufactured to fit pre-existing slabs or unique site conditions with non-standard dimensions. They also are well suited for truck wash buildings because there are no posts or beams which allow overhead self-supporting wash bay equipment to be easily installed. Since the arch spans of the building are incredibly strong, they can be engineered so that the ends can remain open if required. Temporary attachment systems are also available if the metal truck buildings need to be portable.
Contact Curvco now and let us design a truck storage building for your operation.