Exceptional Quality and Service in Arch Steel Buildings
During the past two decades many steel building manufacturers have exported their fabrication activities and outsourced engineering functions to other countries. Curvco Steel Buildings are 100% American made with US steel and not one labor function has been foreign outsourced. In order to remain competitive and viable, the factory has made a significant investment in both equipment and policies that pay keen attention to the customers' needs.
First Grade Quality Materials
Only first grade Prime USA made steel is used in the production of a Curvco Steel building. US steel mills have a proven history of manufacturing the most consistent quality and defect free Galvalume sheet steel. That is why every building comes with a 40 year steel mill backed rust perforation guarantee. All the steel ordered from the steel mills is based on a minimum thickness and not nominal thickness which allows too much variance. This guarantees the actual raw material used in every Curvco building exceeds the thickness the engineers have used in their design calculations.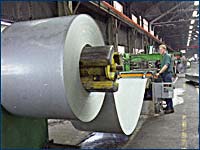 Since the factory purchases raw materials in very large quantities, it is able to deal directly with the steel mills. With this rigid supply channel control, Curvco guarantees only the finest steel is used. The Curvco Steel Factory does not purchase steel from any brokers or middlemen that often sell "secondary" steel coils of questionable consistency from unknown origins.
Advanced Engineering and Designs
The Factory's design department is staffed with highly educated and experienced professionals preeminent in their fields. It consists of an in-house engineering and project detailing department and the new product research group. Curvco's complete line of products have been engineer certified to meet the US IBC (International Building Code) requirements, National Building Code of Canada Can/CSA A660 and the most stringent European and German Euro-codes. View the codes and certifications over at the Government Certifications and Approvals page.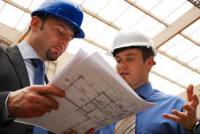 Using CAD (Computer Aided Design) programs our detailers are able to produce specialized shop drawings to interface with any custom application our customers may require. These include but are not limited to linear and nonlinear conveyor covers, crane liftable buildings, movable mobile building systems and military designs for aircraft dry storage containment with rigid air exchange standards.
In an effort to constantly improve our products and develop new markets, the Factory has a dedicated internal product research and development group. As a result of their efforts, we have revolutionized the arch steel building manufacturing process and developed new products and building systems; this is demonstrated by the patents we hold on the arch and endwall design and the very promising ones currently pending. In today's global market place this product innovation and research is critical to maintain the American competitive edge.
The factory is equipped with the most current state of the art manufacturing equipment. This machinery incorporates the most recent technological innovations including, fully computerized production runs, robotics and infrared activated punching and fabrication of the steel sheet. This allows for extremely fast defect free production and tremendous savings that are passed on to our customers from the most competitive arch steel building manufacturer.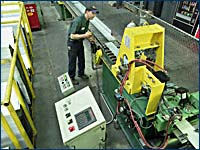 In order to build on their proven history of producing a quality product at a reasonable price, a stringent quality control program is followed at the factory. Even though all the steel coils brought into the plant are accompanied by steel mill test certifications, random outside lab testing for strength and coating quality is still conducted.
All production operators and supervisors in the plant are required to undergo regular quality control training and review of procedures. Anything not meeting quality guidelines is rejected for scrap. Curvco Steel is determined to ship only the finest quality steel buildings.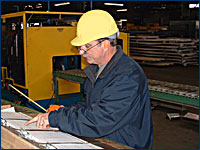 Curvco Steel's "perfect care" customer service program is designed to follow a customer through every stage of the building purchase. Whether the building is bought from a dealer, contractor or directly from the plant a customer support system is constantly available. A customer service representative is assigned to every customer to answer any questions and ensure a smooth and pleasant experience. The technical service department is also available to answer any questions or propose solutions for custom applications or unique jobsite conditions. We are serious about customer service and want to maintain 100% customer satisfaction.