CURVCO STEEL BUILDINGS - Q-MODEL
The Q-Model is the perfect arch building for commercial equipment storage and repair, Industrial manufacturing, storing farm equipment, truck garages, grain storage, livestock, hay, machinery, or equipment, and still have room left over for a workshop. Manufactured in the U.S.A., these Quonset style steel structures are many times stronger than I-beam buildings or the older-style pole-buildings, and are virtually maintenance-free.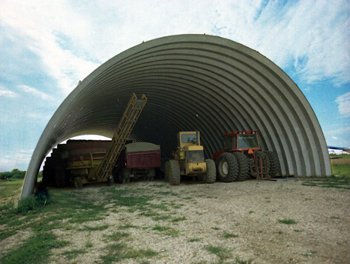 Since there are no interior beams, trusses, or posts required, the Q Model offers 100% useable space. The full-arch design with high center heights allows for very low-cost storage of extremely large or tall equipment while the workbenches, shelves, parts, and supplies can efficiently be placed at the walls. The rafter free design means there is no place for rodents to nest or birds to perch and make a mess of your equipment below; this means less wasted time on cleanup.
Q-Model Quonset Buildings
Ranging from 20 to 140 feet wide, and with no limit in length, the Quonset hut model is among the most versatile buildings offered. They are ideal for use as industrial shops, warehousing, retail storefronts, skating rinks, indoor softball stadiums, and even as an indoor paintball arena. The Q-model is especially affordable not only due to its efficient design but also because of the plant's low labor costs made possible by the most advanced CAM technology and automated manufacturing process.
The Q-Model is manufactured using only USA steel mill Galvalume™ coated steel made from 100% certified American melt and conforms to the Buy America Act. Galvalume™ is the finest American prime-grade sheet steel available and has seven times more resistance to rust than regular galvanized steel. All Curvco Q-Series steel buildings are backed by our non pro-rated 40-year guarantee, an unequaled warranty in the metal building business.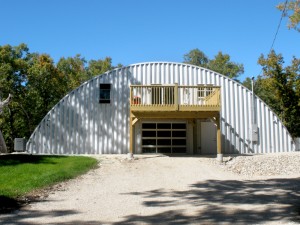 To get an immediate and accurate quote, please fill out the online form as detailed as possible or call 800-748-7188 and our experienced and knowledgeable staff will assist you immediately.
The Q-Model features a full arch design great structural strength.
At Curvco Steel, customer satisfaction is our most critical priority and we accomplish this by being there for our customers to rely on. Our customer service and technical service departments are determined to make your steel building experience, from delivery to construction and beyond, trouble free. The best proof of this is in the customer testimonials and having the highest recommendation/referral rates in the country.