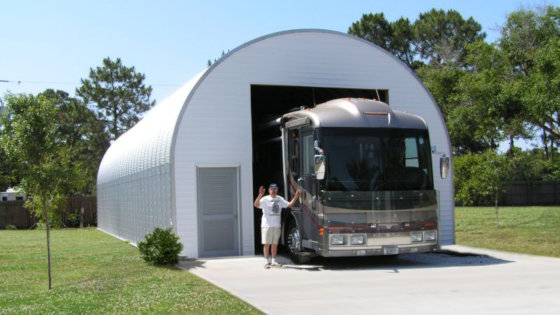 Purchasing a major investment such as an RV comes with particular responsibilities which include ease of accessibility, maintenance and storage in one of our strong, reliable RV Storage Buildings.
This can all be accomplished with any of our prefab steel garages as we have proved time and time again that RV owners trust Curvco Steel Buildings to protect their motorhomes and valuable assets.
Mr. Spalla came to us with garage plans to store his recreational vehicle, classic car, tools and equipment.  He wanted to use our P-model design in making this a reality.
"Speaking with a building specialist gave me a clear understanding of what type of building I needed, how large the metal garage would be, and the appropriate height for my recreational vehicle."
Once the structure was delivered to the project site, the husband and wife decided to construct the DIY garage at the age of 70 years old! With minimal help, the couple was able to fully erect the building and started enjoying it.
Ray said, "Last year there was over 102 inches of snow and the building held up fine. I feel comfortable storing my RV and classic cars in the building because it's so strong!"
Superior strength mixed with our pre-engineered fabrication makes this building a must have when searching for RV storage solutions.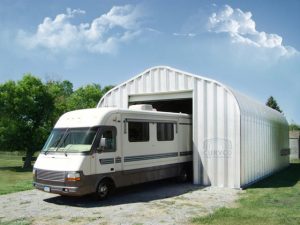 Get a custom online quote on a RV steel garage now!
Or call 800-748-7188 about inventory that can be shipped immediately factory direct to your site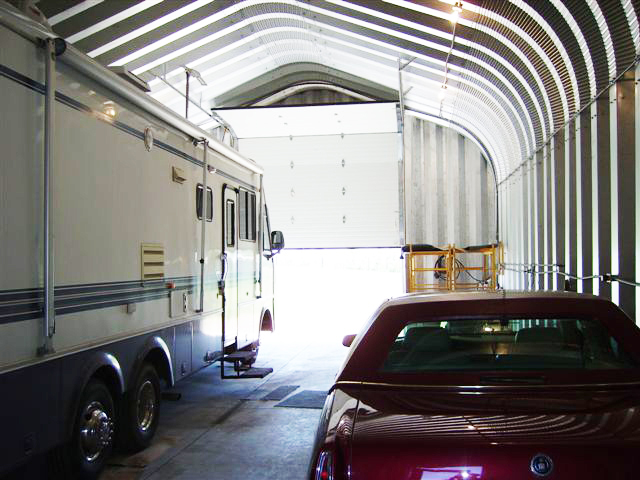 Curvco RV storage buildings provide years of maintenance free use as they are all steel and come with a steel mill backed 40 year warranty. They can be pre-engineered with heavy gauge steel to support even the harshest weather conditions. The labor saving do it yourself design is very affordable and simple to construct because all the components are preformed and predrilled in Curvco prefabricated building kits.
These Curvco arch style RV Storage Buildings are engineered to withstand extreme weather conditions from heavy blizzard snow and damaging hurricane winds. Their design is quite versatile and produces the strongest pre-engineered storage building system manufactured anywhere in the world. They can be designed to be installed with or without end walls as an RV shade cover and remain open for ease of use without sacrificing structural integrity. If you decide to enclose the structure later, factory ends or customer supplied end walls can easily be added at that time. Curvco RV Storage Buildings also offer the best protection for your recreational vehicle storage needs as they are free of wood and resistant to fire.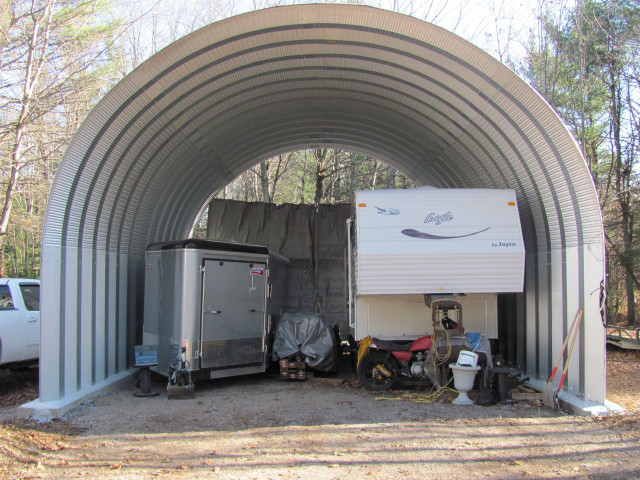 Benefits of Using Steel Garage Kits for RV Storage:
High Occupancy Storage: There is more than enough room to store your RV and any other items you may have. Our Metal buildings can accommodate large or small motorhomes based on the size and design of the structure.
Clear Span Design: Our garages are built with no trusses which allows the customer to strategically use 100% of the interior space. A privilege you do NOT get with a straight wall building.
Hurricane Rated: High-quality steel produced by the factory guarantees that our RV garage buildings are strong enough to combat the most harsh weather conditions including hurricanes, heavy snow, and seismic earthquake activity.
Customizable: We offer a wide variety of models for your RV garage building. As your steel RV garage plans may change, we can best accommodate your needs by focusing on clear communication through telephone, e-mail or fax.
Easy-to-Assemble: All the work has been done by our engineers at the factory as the garages are prefabricated for the do-it-yourselfer and designed to be erected with ease.
Want to match other buildings on your property or add architectural accent to your building? Curvco Steel garages are available in beautiful and vibrant colors. The paint color is extremely durable, energy star approved, and comes with a 40-year warranty on the Akzo-Nobel's Ceram-A-Star 1050 color polyester silicon coating.
When purchasing a garage, you can feel confident you are buying American, buying quality, and buying the best option for your storage needs. No need to look any further as our strong, prefab, DIY garage buildings are the perfect solution.
Contact a Curvco building specialist today to discuss your RV garage plans to guarantee you get the best building for an affordable price!
Listen to how our customers feel about Curvco

"My wife and I erected our RV storage building ourselves 6 years ago when we were both over 70 years old already!! Last year there was over 102″ of snow and the building held up fine. I feel comfortable storing my RV and classic cars in the building because it's so strong".