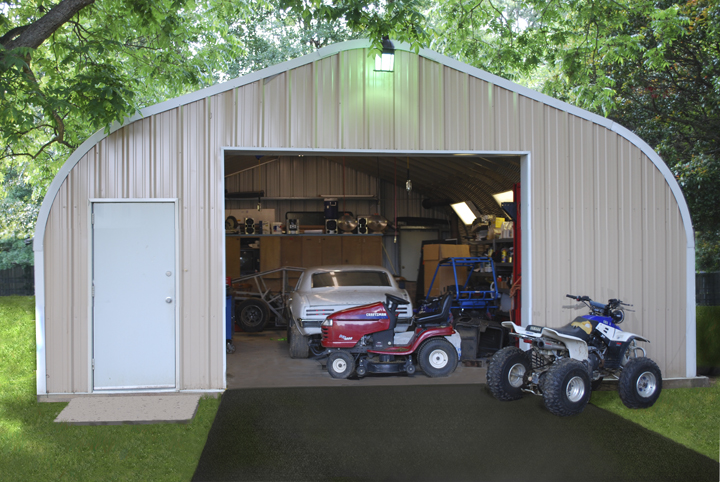 Curvco metal garage kits are the ideal economical solution to shelter automobiles, boats, RV's or ATV's.  They offer a durable low-cost do-it-yourself alternative and are available in many sizes for residential Steel Garages or RV Storage Buildings.  Our prefab garage kits are prefabricated for a fast simple bolt-together construction yet engineered to withstand heavy snow and severe hurricane-force wind conditions.
Want to match the other buildings on your property or add an architectural accent to your building?  Curvco's prefab garages are available in beautiful colors.  The color paint is extremely durable, comes with a 40-year warranty and is Energy Star approved.
They are extremely strong and can withstand hurricane force winds like those native to Southern Florida. Curvco's Florida steel buildings are built to last and can be manufactured in heavy gauge steel to combat the enviroment.
Our most popular garage building consists of high sidewalls that allow for maximum storage and clearance. The widespan nature of these prefab building kits makes them ideal for the do-it-yourselfer and encourages customization of the interior floor plan.
Get a custom online quote on a metal garage kit now!
Or call 800-748-7188 about available specials in inventory that can be shipped immediately factory direct to your site
Curvco's garage building kits for sale not only have an assembly process that is easily done with general labor, but they have superior strength as well.
This feature is derived from both the unique building design, which has an engineered redundant overlapping of the panels, and the extremely heavy gauge of steel used.
You can feel confident that your tools, automobiles, and toys are protected and secure which is why a Curvco steel garage building is the first choice for RV Storage Buildings and prefab garage kits.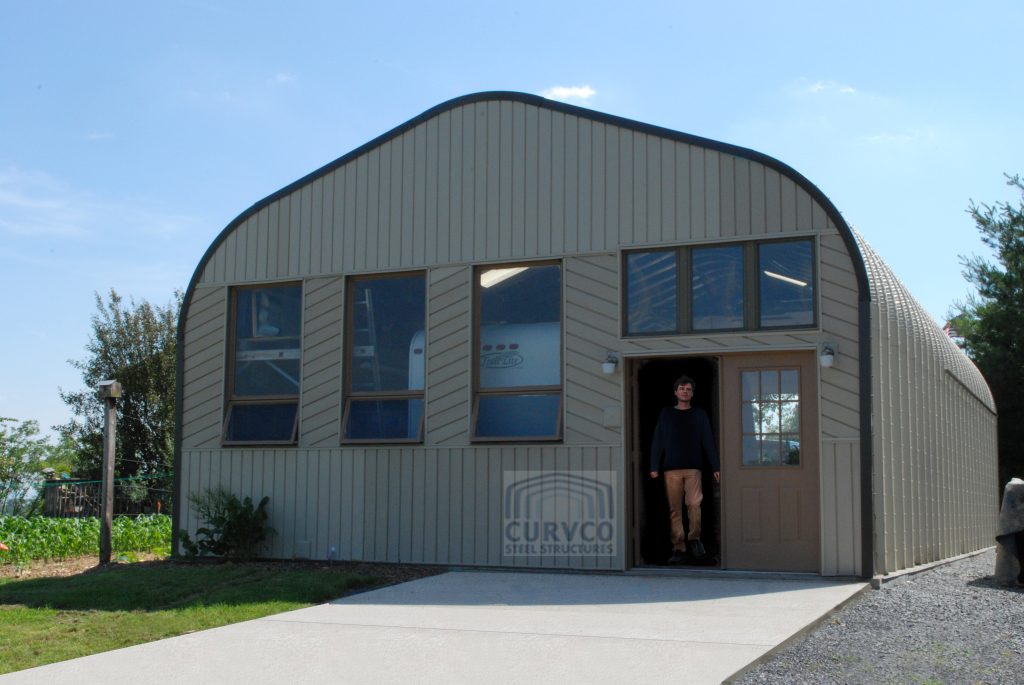 Every Quonset Metal Garages is manufactured using only USA-made hot dip mill coated Galvalume™ steel specially formulated to repel rust corrosion giving you a virtually maintenance-free steel garage building.  Since these all steel structures have no wood there is no wood rot, warping, sagging, or knot defects which means no time-consuming or expensive repair bills.  There are NO roof trusses or beams so there is no place for rodents and birds to nest above your vehicles and soil them or the working area below.
Every one of the factory employees is committed to excellence in both quality and customer service. Contact Curvco today for pricing on metal garage kits and let us show you how American excellence in manufacturing at affordable prices is stronger than ever today!
Listen to how our customers feel about Curvco
Dennis and Patricia Bryan
West Decatur, Pennsylvania Metal Workshop Building
"I use it for storage of my camper, work on cars, whenever in the winter I need to get out of the house, it's kind of a man's cave. Curvco was real cooperative, they were real good with us. I recommend Curvco Steel Buildings to anybody that needs a metal garage building."
Ocala, Florida Metal Garage Kit

"I really love the building and there is so much room inside. It stays cool even when the sun is out. I put it up myself with some friends. It wasn't hard to build."