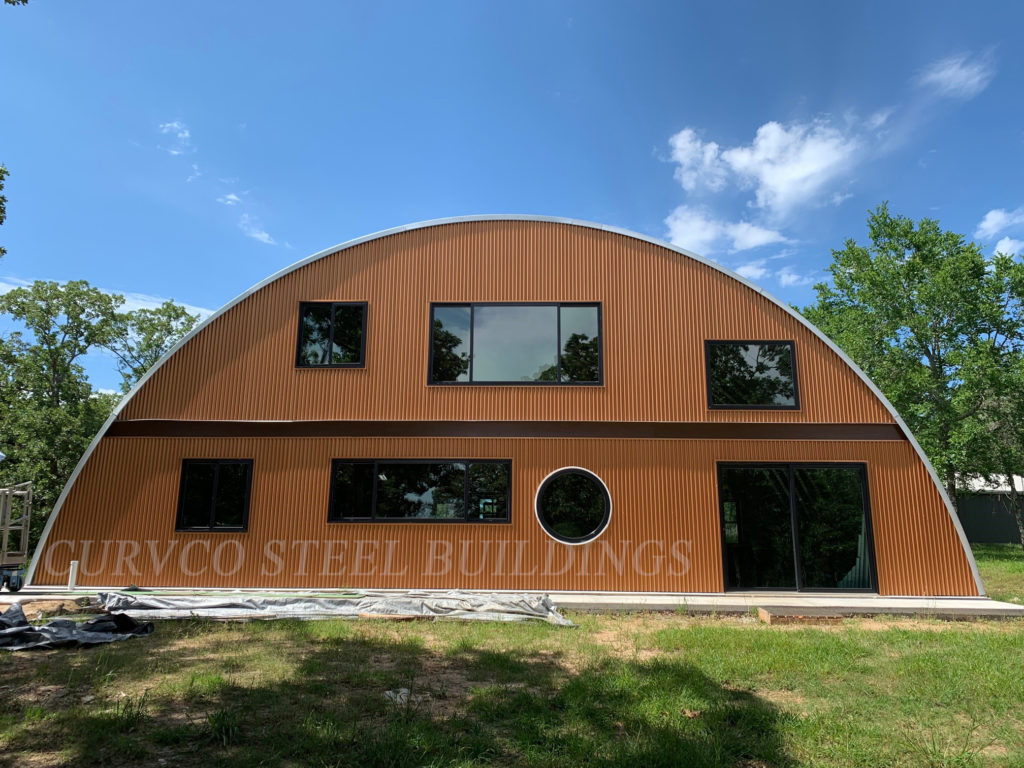 Curvco Prefab Steel Homes offer the perfect way to make your dream home become a reality. Their efficient design produces the most affordable prefabricated steel homes and is fully customizable to achieve the most attractive appearance. While the curved features of the arch project an appealing modern architectural look, they also offer unparalleled strength in metal home kits.
It's very easy to make Curvco prefab steel homes beautifully match their surroundings as the ends can be fully customized. Many customers use wood or vinyl siding, brick or masonry materials to create a façade on the ends to complement the landscape or the exterior of other adjacent structures. Simply stud up the ends using 2 x 4's or 2 x 6's, attach plywood with a weatherproof membrane and apply the decorative material of your choosing. The factory supplied ends can also be custom ordered in color and a two-tone or wainscot combination can be utilized.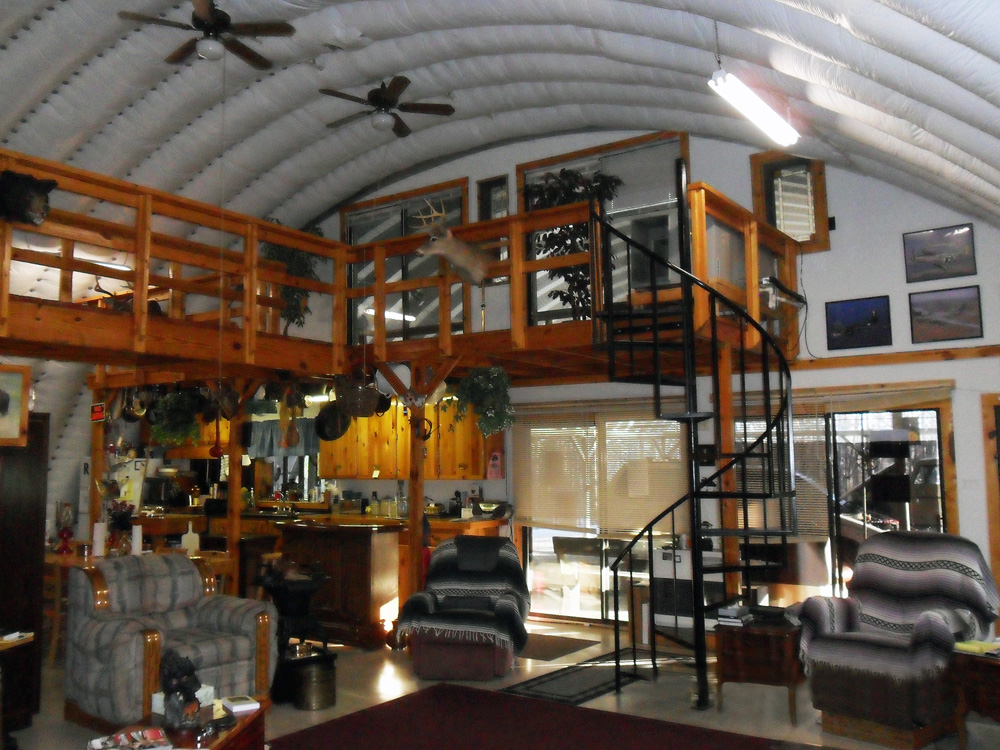 Curvco Steel House kits components are completely prefabricated and predrilled, it is very easy for the do-it-yourselfer to construct. This saves you thousands of dollars in construction labor and eliminates costly housing contractors. Basic tools and scaffolding can be used in the assembly so high-priced equipment rentals are also avoided. The absence of trusses, beams, and posts in a Curvco arch building steel home makes it easy to double your floor space with a wide open fully useable second floor or loft area. Not only do these features make your steel house kit easy to erect, but the most affordable as well.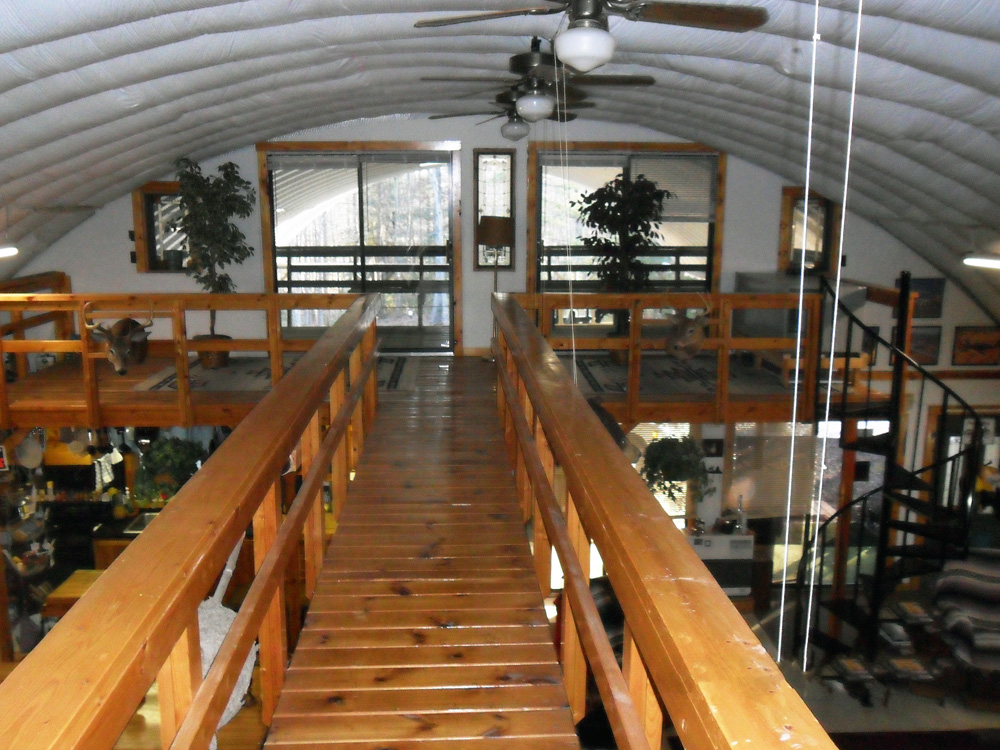 The heavy gauge of steel used in Curvco Steel Houses combined with the superior engineered design result in an extremely strong structure. These prefab house kits are manufactured to withstand the strongest hurricane-force winds and the heaviest snow loads and are very popular in high snow mountainous regions or northern climates like Alaska. (Watch the testimonial video)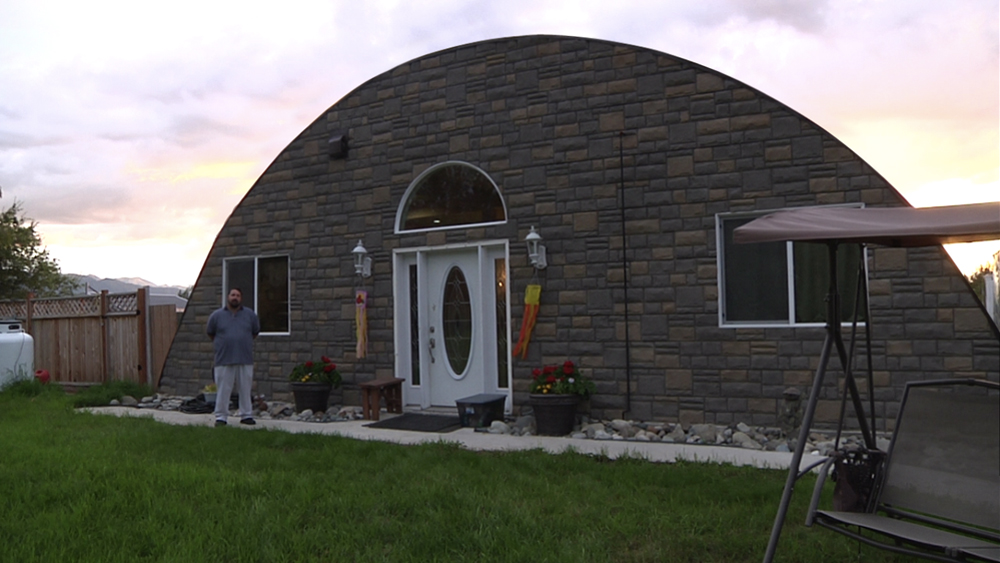 You can have confidence that your family and valuable property are protected and secure even in storms where snow accumulations can be 3-4 feet. Curvco Steel building kits are designed to meet the regional building code structural requirements.
Call and discuss your home project plans with a building specialist today!
Small Metal Building Home
A Curvco Small Metal Building Home is the ideal "green" or sustainable house construction as the steel is fully recyclable. The building shell or panels are available in several energy star colors that save you energy and come with a 40-year warranty from Akzo Nobel. Whether you purchase your home with color or Galvalume steel they require virtually no maintenance or repairs and save you money. It is very easy to insulate a Curvco residential steel home and they are remarkable energy efficient as there are no dead corners.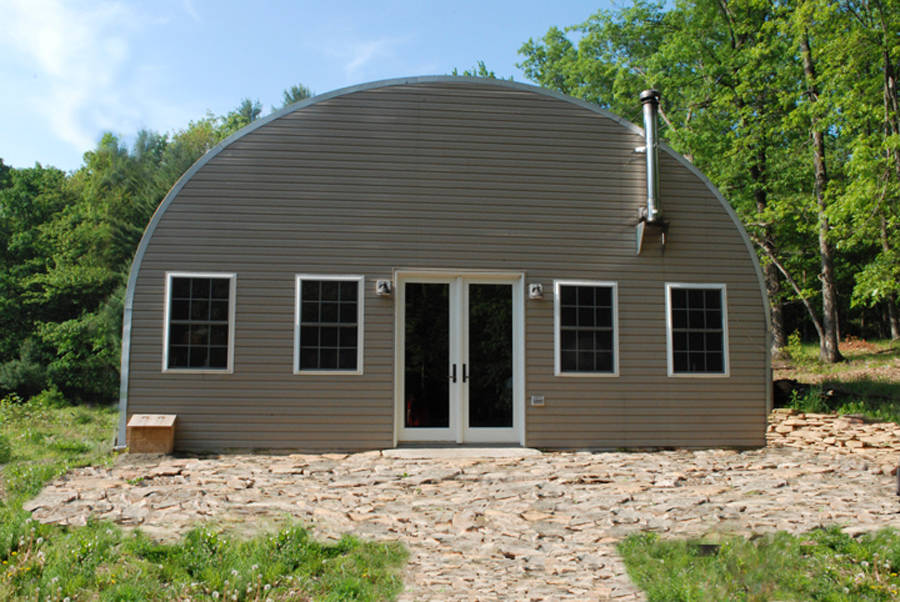 These homes can also be built with "green" accessories including solar panels for electricity or heating water, skylights and wind/solar powered turbine vents.
Call and discuss your home project plans with a building specialist today!
Listen to how our customers feel about Curvco
Palmer, Alaska
Prefab Steel Home
"It was easy to put up, we erected it in 2 days, its held up just fine We can get upwards of 3' of snow in one day and the building holds it with out any trouble…you don't have to get up and shovel the snow off of it. I really like that it's American made."