30x50 Quonset RV Storage Building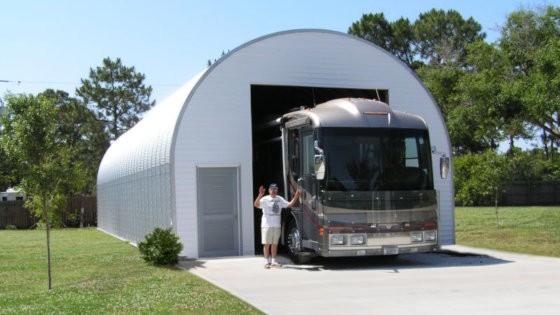 Building ID#: QSP-305017
Style: Straight Wall
Model: S-Model
Size: 30'W x 50'L
***Model Pricing may vary based on features, accessories and options selected***
Includes:
Complete Enclosed Building
Roof, Sidewalls and Endwalls
1 Steel Framed Opening
1 Door Frame Kit
Galvalume steel with 40 year warranty
Hardware: Nuts, Bolts, Washers, Weather Stripping
Computer Aided Design Drawings

Foundation & Erection Manuals
The 30×50 Quonset RV Storage Building is a perfect blend of strength and versatility. The do-it-yourself design simplifies the construction process and allows the customer to completely erect the metal building over a weekend.
Most popular for it's incredible straight sidewall height, the S-model Quonset allows the customer more storage space along the walls for shelving, racks and custom fit modifications. One size nut and bolt secures these steel arch panels in place and when combined, create an arch with superior strength against snow and hurricane rated winds!
The 30×50 Metal Building is by far the best option when looking to house a Recreational Vehicle. With ample room on the sides and extra space in the back for a workshop bench, these buildings prove to be unmatched. Speak with a building specialist about adding options such as Roof Skylights, Turbine Vents, Windows, Framing, partition walls and Insulation. Because of the Quonsets DIY nature, even the walls on each end can be designed, fully customized and installed using our curved wall brackets.
Fill Out The Information Below for a Fast Quote!
**Once submitted, a Curvco building specialist will review your site loadings and custom features & accessories to determine an exact price!**
Most Popular Quonset Sizes
How to Insulate a 30×50 Metal Building
There are two way to insulate a 30×50 Quonset RV Garage using the Full Quonset Style Design. Traditional fiberglass insulation can be purchased and used to enclose the structure and is available in 3″, 4″ & 6″ thicknesses. When insulating the inside of a steel arch building, pins are attached to the bolts on the arches. The insulation pin is pushed through the fiberglass insulation and a washer is attached holding the insulation blanket in place. These pins are specifically designed for arch building insulation and are available at an additional cost.
An increasingly popular method for insulating a metal building is the use of spray foam. The applied foam is made up of two materials, polyurethane and isocyanate. When these two compounds react, they expand and harden in place which is perfect for getting into small crevice's and cross spaces. Spray foam also has a high R-Value which reflects and protects against extreme heat.