G model arch steel building
Quality, durability, and economy are the hallmarks of the G-Model. Virtually maintenance-free and offering the maximum usable interior space with no obstructions, the G-Model is the perfect steel structure for storing industrial equipment, truck garages, storing hay, machinery, or equipment and still have room left over for a workshop. Manufactured in the U.S.A., these arch-style steel structures are many times stronger than I-beam buildings or the older-style pole-buildings, and are completely vermin-proof.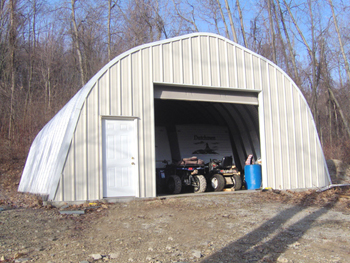 Ranging from 16 to 40 feet wide, and with no limit in length, the G Model is among the most versatile buildings offered, ideal for use as industrial shops, warehousing, retail storefronts, residential housing and RV storage. This model combines an attractive 4/12 roof pitch with a gambrel style wall design and makes a great hunting lodge or cabin. The G-Model is especially economical due to the factory's efficient manufacturing process and its unique design strength in heavy snow and wind conditions.
The G-Model is manufactured of the same incredible Galvalume™ coated steel as our other models. Galvalume™ is the finest American prime-grade steel available, and is 7 times more rust-resistant than regular galvanized steel. G-Model steel structures are all backed by our Industry leading 40-year guarantee, the best warranty in the business. This building is virtually maintenance free so you can focus your time on business or hobby activities instead of repairs.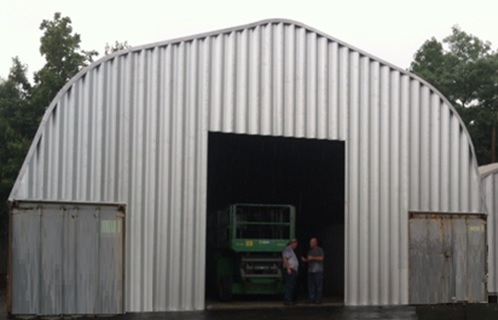 To get an immediate and accurate quote, please fill out the online form as detailed as possible or call 800-748-7188 and our experienced and knowledgeable staff will assist you immediately
The G-Series features a pitch roof gambrel style for great aesthetics and structural strength.
At Curvco Steel Buildings we believe in backing our products up with the best possible customer service both before and after delivery. We have a longstanding family tradition of delivering the highest quality buildings on time for our customers. Our top priority is maintaining complete customer satisfaction and that is why we continue to have the highest repeat purchase rate in the building industry.