Curvco Steel Structures - Accessories
This wind-propelled ventilator is extremely important for helping prevent condensation and for expelling exhaust fumes and other gases. It is ideal in structures that will not have electricity and thus no ventilation system.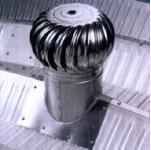 Let the sun shine in with Curvco Steel Buildings' durable fiberglass skylights. These versatile units provide an inexpensive way to light up your interior space without electrical lighting. The recommended installation is one skylight for every 20 feet.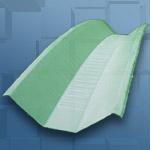 It's an open-and-shut case when you choose these rugged 3′ by 7′ commercial man-doors that are supplied totally insulated with an installed key lock. Pre-built and ready to install, they provide security and easy access to your building.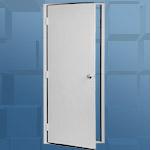 Perfect, smooth, long-lasting, up and down operation is what you can expect when you install these super-tough industrial-grade overhead doors.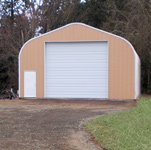 Super-heavy 14 and 16 gauge material is used in the door headers and frames. These super deep 3-and-a-half inch door frames make Curvco's sliding doors the strongest in the industry!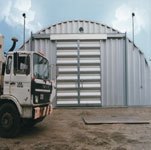 Our insulation is the highest quality industrial reinforced fiberglass batt insulation featuring a specially designed patented pin system. These are special bolt extensions that go onto the very bolts used to put the building together, and conform to the shape precisely for simple, fast installation.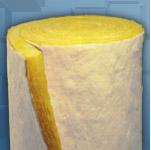 Motorized exhaust fans are the most effective way to help keep your building dry, expel gases and control condensation. Easy to install complete with synchronized attached shutter and mechanical thermostat for automatic operation when you need it (does not rely on wind).