FREQUENTLY ASKED QUESTIONS
CURVCO ANSWERS ALL YOUR STEEL BUILDING DESIGN, PLANNING AND GENERAL BUILDING QUESTIONS!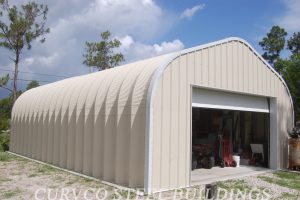 The information below is being provided in order to help answer frequently asked questions and address some important issues. If you have any comments or additional questions, please contact Curvco at (800) 748-7188 or e-mail us and a customer service representative will be happy to assist you.
How much does it cost to build a prefabricated building?
It's easy to obtain a price quote. Simply fill out the building estimate form with your information. Be sure to be as specific as possible so our estimators can provide an accurate quote and save you time.
Can these buildings be attached to different types of surfaces?
Yes! They can be mounted and attached to platforms, barges, precast walls and other site conditions.
What are the most popular uses for a Quonset Hut Steel Building?
Storage Buildings, Workshop Buildings, Mancaves, Metal Farm Buildings, Agricultural Buildings, Car Storage Buildings, Boat Storage, Prefab Steel Homes and RV Storage Buildings.
Why are so many people building steel arch structures?
These steel structures are made with heavy duty steel and won't blow over in the wind like a flimsy carport. Strength, Durability with a wide variety of options and accessories makes constructing a steel structure prime real-estate.
What does it cost to obtain a price quote?
Curvco Steel Buildings offers free building price quotes!
How is my personal information used?
In order for Curvco Steel Buildings to provide you with the price quote you request, you will be asked details about your building requirements as well as contact information including your name, address, phone number and e-mail address.
What are the buildings made of?
The finest commercial-grade US steel available – Galvalume and we use only heavy-duty, corrosion-resistant bolts.
Can you deliver anywhere in the US?
Yes. Contact us to obtain an estimate. Since several buildings can ship on the same truck by using community freight, the Factory will combine your building with others in order to save you money.
Are Quonset steel building kits strong enough to withstand hurricane winds?
Curvco offers heavy-gauge steel in every model we manufacture. These strong arch buildings are engineered to meet hurricane rated winds, heavy snow loads, and seismic activity for your location. Every building sold in Florida has been tested and certified to meet the FL state hurricane wind code. For More information see metal buildings for sale in Florida.
How long will it take to receive my new building?
Every building is uniquely engineered to meet each customer's specifications. Therefore, delivery times may vary. Your representative can check on buildings panel stock in inventory that may save you money and reduce the lead time. Please contact us to get a better idea.
Are there other colors available?
Yes, choose from our ENERGY STAR approved reflective paint selections. Not only does it enhance the appearance, but cuts energy costs of your building and is better for the environment!
What options do I have for doors and accessories?
Curvco has many options to choose from as far as doors, windows, ventilation, lighting, insulation and more to make your building more functional for your needs!
Will my building meet local building codes?
Each building is engineered to comply with regional building codes and wind and snow load requirements.
What are the benefits of building an arch steel building?
Our prefabricated kits are pre-enegineered as DIY buildings, which can save you thousands on construction costs and Curvco offers an amazing 40 year warranty on rust and corrosion.
How much will it cost to assemble my building?
Because Curvco Steel Buildings are pre-engineered and sent ready to be assembled, you can save money and time by erecting it yourself! These buildings were created with the consumer in mind so there is no need for a professional builder to erect your building. No special tools or heavy equipment is required for typical garage and workshop models.
How do you attach a Container Roof to a Shipping Container?
The container roof system can easily be attached to the inside or  outside of the Conex containers by either welding or bolting them into place using our container plate adaptor.
Do Shipping Container Roofs require a foundation?
The major benefit of these shipping container roofs is the ability to drastically reduce costs on site-prep construction.