Curvco Steel Buildings offers the most cost-effective pre-engineered building system. A combination of their simple design combined with completely prefabricated components are perfectly suited for a do it yourself assembly. This means you can save thousands off the construction time available.
Curvco's design specialists can help you select the optimal size and model and allow for your future buildings growth. Need a building in a hurry? Check out our Metal Building Kit Packages for the best steel building prices on structures that can be shipped immediately.

Curvco can customize most models for any preexisting concrete slab or wall, portable or temporary use, conveyor systems and much more. Call 1-800-748-7188 and talk with a building specialist or fill out our request a free price quote form for immediate metal building pricing or information.
There are 5 versatile Curvco arch metal building models to choose from. Many models are available in our Energy Star® colors by Akzo Nobel with a 40-year warranty. Every building is manufactured using the best US-made coated steel available, Galvalume® Steel, and is backed by the building manufacturer and US Steel Mill for 40 years against rust perforations.
Future Steel Building Price Trends
Supply shortages are a real possibility with the recent pandemic caused workplace lock downs and channel distribution disruptions in the steel industry. Protect yourself against future steel building price increases caused by work stoppages, tariffs, and market shortages. Ask about Curvco's deferred shipment plans and lock in your savings now to avoid future steel increases.
Arch Steel Building Prices
Workshop Building Kit
FOR SALE PRICE: $18,886
Size:
30'W X 46'L

Model:
Straightwall/Pitched roof

Use:
Garage/Workshop
FOR SALE PRICE: $26,676
Call For Even Lower Price$
Size:
40'W X 60'L X 18'H

Model:
Q-40-18 / Super High Profile

Use:
Truck Garage
FOR SALE PRICE: $37,341
Call For Even Lower Price$
Size:
45'W X 90'L X 17'H

Model:
Super S-45 Straightwall Arch

Use:
Machine Shop
Steel Building Kit
FOR SALE PRICE: $37,341
Size:
50'W X 100'L

Model:
Q50 Super High Profile

Use:
Warehouse
Don't see the size you need? Call for a fast free quote!
1-(800)-748-7188
or Click For Custom Quote
How Much Does An Arch Steel Building Cost?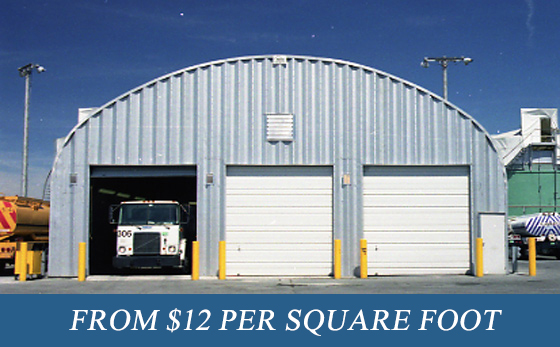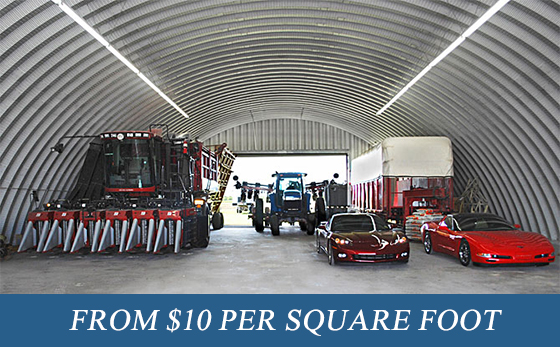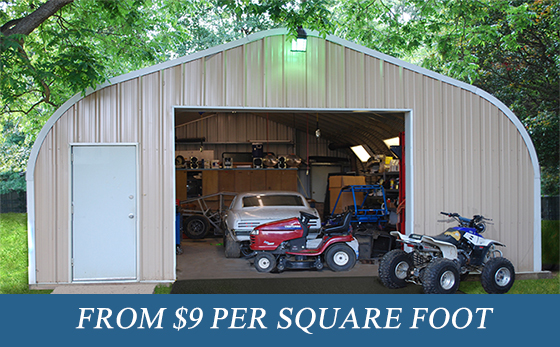 Most Curvco arch steel building kits fall in the $9-$12 price range. Our steel garages typically cost $9 per square foot. However, commercial warehouses can cost upwards of $12 per square foot and for farm use start at $10 per square foot.
Prices on arch buildings vary according to several factors including use, size, and building location. Engineering design considerations for heavier snow loads and wind strength may affect the particular model selected or thickness of the gauge of steel used. Accessories such as doors, windows, and ventilation also can impact your building price.
Curvco Steel Building sources its raw material in steel coils direct from three USA Steel Mills. We only use 100% American made steel in our arch buildings so you know you are getting the best quality. Only prime commercial-grade steel is used and lab-tested to ensure quality steel.
In recent years there has been a lot of upward US Steel price trending recently due to tariffs and large construction activity. It's difficult to determine future steel building prices but robotics and improvements in the factory steel arch building manufacturing technology have allowed us to absorb some of the increases and pass the savings on to our customers.
DIY Arch Buildings Save Money
All of our arch steel building models are pre-drilled, pre-punched and ready for a fast installation using our DIY kits. The cost of these steel buildings is relatively inexpensive compared to conventional methods of construction. Quonset Hut style garages are perfect for the do-it-yourselfer who wants a strong structural building without compromising your budget.
The cost of Quonset Hut Kits can vary depending on a few factors including building codes but they remain the most competitive of all arch buildings. Pound for pound they excel in comparison to other structures with some of the lowest steel building prices on the market!