S model straightwall arch metal building
The S-Model Steel Structures are ideal for commercial, industrial, consumer or farm applications. They are the preferred building of choice by commercial and industrial shop owners, recreational vehicle and boat owners, farmers, and truckers of all kinds to protect their valuable investment, whether it be a pick-up truck or an 18-wheeler. Some other possible applications include airport fueling garages, maintenance facilities, truck dealerships, horse barns, and even fire stations!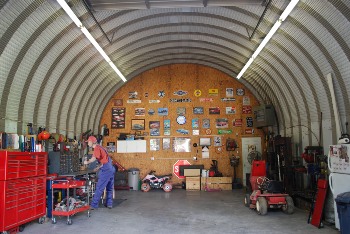 Each and every S-Model is custom-made to the customer's specifications to ensure maximum usable space at a minimum investment. Ranging from 10 to 50 feet wide with unlimited possible length, the sidewalls can be also be raised up to achieve extremely tall inside heights. By combining the high sidewalls with an engineered arched roof for strength against the elements, the totally clear span S-Model challenges even the most difficult commercial applications. Need a second floor, have super high racks, need cheap loft storage, or mezzanine space? If so, the S-Model is an affordable solution for your building application. It is one of the most versatile and economical steel structures available and is virtually maintenance-free and rodent-proof.
The Curvco S-Model is manufactured entirely and exclusively in the United States using only American labor and American steel mill supplied raw materials. The factory uses the most current modern CAM technology in the design and fabrication of each building and the labor efficiency savings are reflected in our low pricing. The S-Model is produced entirely with Galvalume coated steel, the highest quality prime-grade U.S. steel on the market and 7 times more resistant to rust than regular galvanized steel. Curvco backs each and every one of its S Series buildings with a 40-year rust perforation warranty, the best in the business.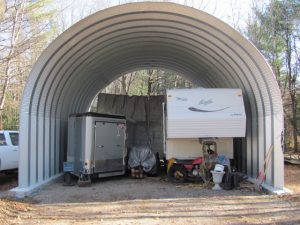 To get an immediate and accurate quote, please fill out the online form as detailed as possible or call 800-748-7188 and our experienced and knowledgeable staff will assist you immediately.
S-Model features a super-straight wall design for efficient space usage with superior strength.
When you purchase an S-Series building from Curvco Steel, our tradition is to service you every step of the way. Customer satisfaction is the utmost priority and we go above and beyond to maintain our reputation. Our manufacturing and customer service team will do whatever it takes to guarantee a smooth building process and our high customer referral rates prove it.