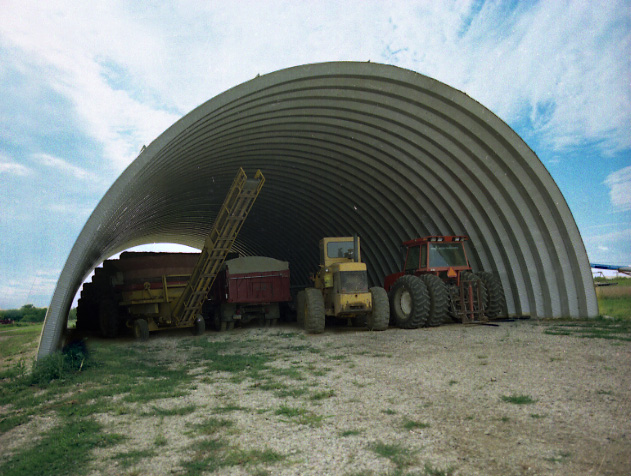 Curvco Steel Buildings has been manufacturing metal barns for the agricultural farming communities for decades. With a trusted name and certified product, these metal farm buildings are used in a wide variety of ways. Our team of expert engineers can execute clear farm building plans and design a structure that will encompass all of your needs.
Our Metal Barns and agricultural buildings can be used for:
These Metal Barns can be built in a wide variety of styles and models. Large agricultural farms such as Dunlop Farms in Kansas preferred to build their crop storage building on an existing concrete wall. With our prefabricated design, this option was made possible by bolting down the structure using our heavy gauge metal plates. Thus, giving the metal building an increase in height of 7 feet. Allowing for his equipment, commodities, and storage supplies to easily clear the headroom of the building.
With the high cost of real estate in the modern world, farmers are looking for an easier and more cost-effective way of constructing buildings on their property. Curvco offers the easy to assemble and economical Metal Barn Kits which serve both requirements. These metal farm buildings are pre-engineered and built to stand the test of time. Our uniquely prefabricated DIY construction transcends these barn kits into a hot commodity. By simply overlapping the steel arches and securing them in place with a one-size-nut-and-bolt, you can build the foundation for the strength of your building in no time.
Basic Metal Barn Kits include:
A Basic Metal Barn Kit is for the farmer that needs a fast and affordable metal building quickly. Because of the simplicity of this kit, our factory can expedite delivery time within 2 weeks or less giving the farmer a piece of mind while handling their deadlines.
Get a custom online quote on a metal pole barn now!
Or call 800-748-7188 about Curvco trussless and clearspan buildings in inventory that can be shipped immediately factory direct to your site
Premium Metal Barn Kits include:
Premium Metal Barn Kits are for the more established and long term farmer that anticipates the longevity of his business and his buildings. He puts focus on buying exactly what he wants. This farmer wants the metal building plans to be done right, with the right look, accessories and the whole nine yards.
Compared to conventional construction methods, these metal buildings have proved time and time again that they are prefabricated to save you time and money on the total cost of construction. This allows the consumer to spend those savings elsewhere. A typical farm storage building can cost anywhere from $10-$13 per square foot. Although, Metal Barn Prices may vary depending on location and the number of accessories needed for your building application.
All Metal Barn Prices include:
Contact Curvco Steel Buildings today and speak with one of our building specialists about our Metal Barn Prices at 1-800-434-4893. With a wide variety of metal building options, Curvco Steel Buildings will find the right solution for you!