70x40 Shipping Container Roof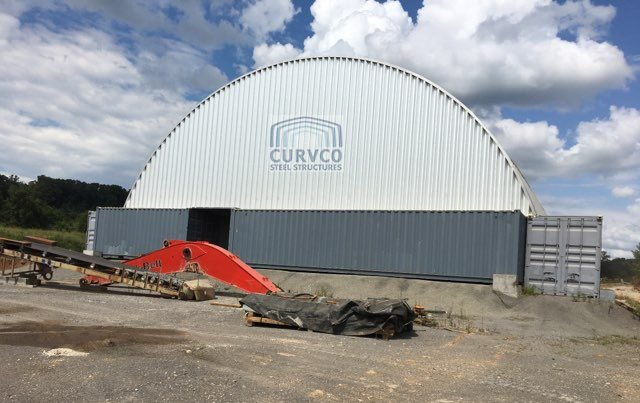 Building ID#: SCR-704024
Style: Quonset Hut
Model: Container Roof
Size: 70'W x 40'L
***This building WIDTH can attach to 20′, 40′ and 45′ length shipping containers.***
Includes:
Roof system
One Solid Wall
Open ends with adaptor angle
Galvalume steel with 40 year warranty
Hardware: Nuts, Bolts, Washers, Weather Strapping
Computer Aided Design Drawings

Foundation & Erection Manuals
The 70×40 Shipping Container Roof is a perfect addition for a covered job-site and equipment storage allowing you to cover your entire fleet of dump trucks, bull dozers, backhoes and conveyor systems safely out of the weather. Many farming communities and municipal projects take advantage of our arch building roofing systems to help ensure company assets are safe such as: Wood chips, top soil, dirt, rocks, landscaping materials and hay storage.
Our simple Do-it-yourself design simplifies the erection process and saves you time and money compared to conventional construction. A one size nut and bolt attach the arch building together which then can be either welded or bolted into position on top of the containers.
The 70×40 Container Roof is increasingly popular among construction companies looking for added storage value. Need a dry and shaded space out of the weather for your contractors or employees to work safely out of? A container roof can provide the coverage you need!
A wide variety of sizes, models, and modifications can be implemented using this Arch Steel Roof. The pre-engineered nature of the container cover building allows for the walls on each end to be fully customized or provided by Curvco Steel Buildings if the project requires it.
Fill Out The Information Below for a Fast Quote!
**Once submitted, a Curvco building specialist will review your site loadings and custom features & accessories to determine an exact price!**
Most Popular Shipping Container Roof Sizes