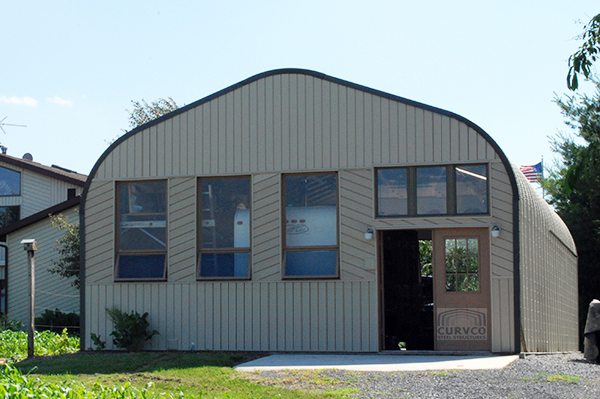 Quonset Hut Workshop Kits make for the perfect garage building for all your hobbies and needs. Design the Workshop to be multi-functional for an automotive garage or with a man cave to kick back with your friends and relax on the weekends.
Taking advantage of our 100% clear span design, the entire interior of the workshop can utilized for storage. When it comes to getting the best building for your money, the Quonset Hut Workshop Kit is by far a major competitor.
Workshop Buildings For Sale
Quonset Workshops are maintenance free and require little to no upkeep compared to wood framed buildings or more traditional building methods. Out the gate they are durable, strong and can weather even the toughest site conditions. Constructing one of these building kits using the one size nut and bolt system is fairly easy. What makes these Quonsets so popular is the do-it-yourself design and the speed at which construction can be completed. 
Backyard Quonset Hut Workshops
Turning your Backyard Quonset Hut Workshop into a fully functional detached garage is easier than ever. Include a second garage door on the backside for a drive through or position a walk-through door on the side for easy access. Partition walls can be purchased for an additional cost to section off the interior of the building for multi-room purposes. 
These backyard workshops can have electric, lights, ventilation systems, roof skylights and more! Configure your Quonset Workshop however you see fit. Speak to a building specialist about our Workshop Kits and how a Curvco building can save you time and money on your next project!
Get a custom online quote on a Steel Quonset Hut Or call 800-748-7188 about available specials in inventory that can be shipped immediately factory direct to your site!
Benefits of a Curvco Quonset Workshop
How do I insulate a Quonset Workshop Building?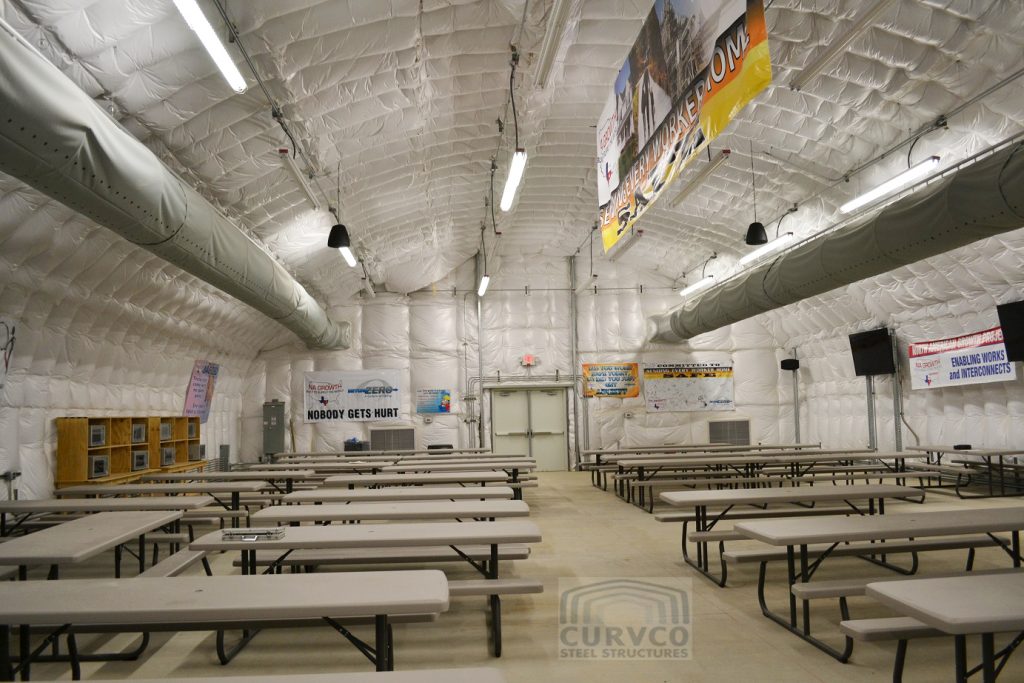 There are two way to insulate a Quonset Workshop Building. One method is by using the traditional fiberglass insulation which can be purchased in 3″, 4″ & 6″ thickness.
As you can see in the picture, the Quonset hut must be prepared to receive the insulation along the roof. The second method which is becoming more popular is the spray foam technique.
Which type of Quonset Insulation is better?
It is hard to say which one is better but it seems like customers nowadays are using the spray foam technique more times than the fiberglass insulation. The spray foam insulation is easier to apply in hard to reach areas and when sprayed, it expands and hardens in place. It is also has a relatively high R-Value which reflects and protects against extreme heat.
Cost-Effective Quonset Hut Workshops
Constructing a Curvco Quonset Hut Workshop using our arch design is cost effective compared to other building types. Most of the savings is attributed to the simple DIY design which allows the customer to erect the building on his/her own, eliminating costly contractor fee's and labor costs.
Regular maintenance required with these Quonsets is little to none, allowing your time to be spent elsewhere doing more productive things. The steel allocated for these buildings is a part of the "Buy American Act" and comes direct for the US Steel mill, keeping costs low.
Learn More about our special Quonset Building Kit Packages and how you can save on delivery costs!