Manufacturing, Mining and Government agencies turn to Curvco for all of their steel building needs. They know when they come to us for industrial storage buildings; they can receive one with lead times as short as 72 hours at great, affordable prices. The versatility of our arch style prefabricated steel buildings is why many customers choose Curvco industrial building kits and is illustrated with the following applications:
Protects Equipment: Large or Small
Curvco industrial storage buildings can be customized efficiently to cover your industrial size equipment whether it's a large turbine generator or small precision water filtration stations. You can choose the size that best accommodates your needs as we have many different models available even allowing you to vary the height and width within the same structure without expensive engineering design costs. With a Curvco heavy 14 to 22 gauge steel enclosures are durable and built to last, so you don't have to worry about the elements damaging or reducing the longevity of your pricey equipment. Even when purchasing a large width steel building, you'll have enough room to not only easily maneuver the equipment or machinery, but also work on it as the entire building is clearspan and has no interior posts or roof trusses to obstruct. Some of our customers use our large steel buildings for testing industrial prototypes or shelter for production lines.
Small Generator or Compressor Storage Buildings
Protecting generators and compressors is essential when depending on them in times of need. Our small steel buildings can encapsulate them, so you don't have to worry about them being harmed by outside forces. Whether you are protecting your equipment from vandals, thieves, severe climatic conditions Curvco steel arch buildings will provide peace of mind that it will be in good working order when you need it to be.
Perfect for EPA Mandated Well Covers
As you know, effective well covers that need to be secured can be expensive. Curvco well cover shelters over affordable solutions you can trust. Our industrial well cover buildings are ideal for EPA mandated well covers or shelters and provide the security you need. You do not have to worry about your well becoming damaged or compromised by runoff or contaminants when you have it protected by one of our steel buildings. If you are sheltering a monitor well with expensive industrial laboratory equipment Curvco's durable industrial storage buildings are the perfect solution.
Easy to Sound Proof for Noise Control
If you're seeking a way to contain noise levels or loud sounds inside your small industrial building, Curvco structures are the best choice. They are easily insulated to prevent condensation and sound proofed with custom sound control systems to meet any noise controlled building requirements. The sound control in our industrial storage buildings is hard to beat by incorporating sound absorbing dense mineral wool and perforated liner panel systems. Curvco industrial steel buildings will help you meet EPA or OSHA decibel level requirements and avoid costly fines.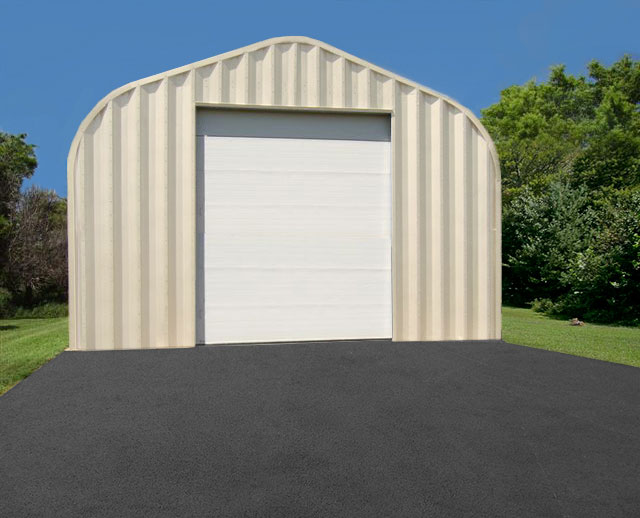 Hazardous Waste Storage
If you handle hazardous waste, you are required by law to secure it in a building to prevent runoff, leaks and accidents. Our pre-engineered industrial steel building kits offer a low cost solution that can be delivered quickly and installed with general labor avoiding expensive contractors. Curvco prefab waste storage buildings are specially designed to keep anything you need safely inside by incorporating ventilation systems and if desired can even be installed with open ends to allow for continuous effective airflow.
Industrial Steel Buildings – Fast Delivery and Installation
You don't require cranes or heavy equipment to install most of our industrial building models if you want to save thousands on construction labor. If you need an urgent turnkey solution Curvco can also provide fast delivery and installation of your steel building by a licensed insured factory certified erector. Many of our customers can have their building ready to go within weeks, so they can start enjoying their benefits.
To get started, contact one of our experienced industrial steel building experts. We will help you decide on a style and size that will meet your needs. When you're ready, we'll place your order and schedule a delivery date. Before you know it, you'll have a reliable and durable building on your property that can solve your needs so you can focus on running your business without downtime. Contact us now.