Mr. Nicololff contacted us in early May to discuss his storage needs for his tire business. It was important for him to have easy access to his supplies and equipment while maintaining a shaded area to protect his tires from the sun.
Car tires may appear to be weatherproof and withstand rough conditions but they can actually be vulnerable to continuous exposure to the heat of the Florida sun. The website Popular Mechanics cited the sun to be the number one reason for tires to fail and deteriorate.
Storing his un-used tires underneath our Container Covers proved to be the most practical solution to his problem. After speaking to a building specialist, Mr. Nicololff decided to build his Container Cover 51′ Wide to accommodate his stock-pile of tires and house his equipment he uses to support his daily operations.
Mr. Nicololff determined these structures were cost effective due to the fact that the containers themselves were being used as the foundation in comparison to pouring concrete. Curvco supplied him with metal plates which connect to the shipping container for easy installation.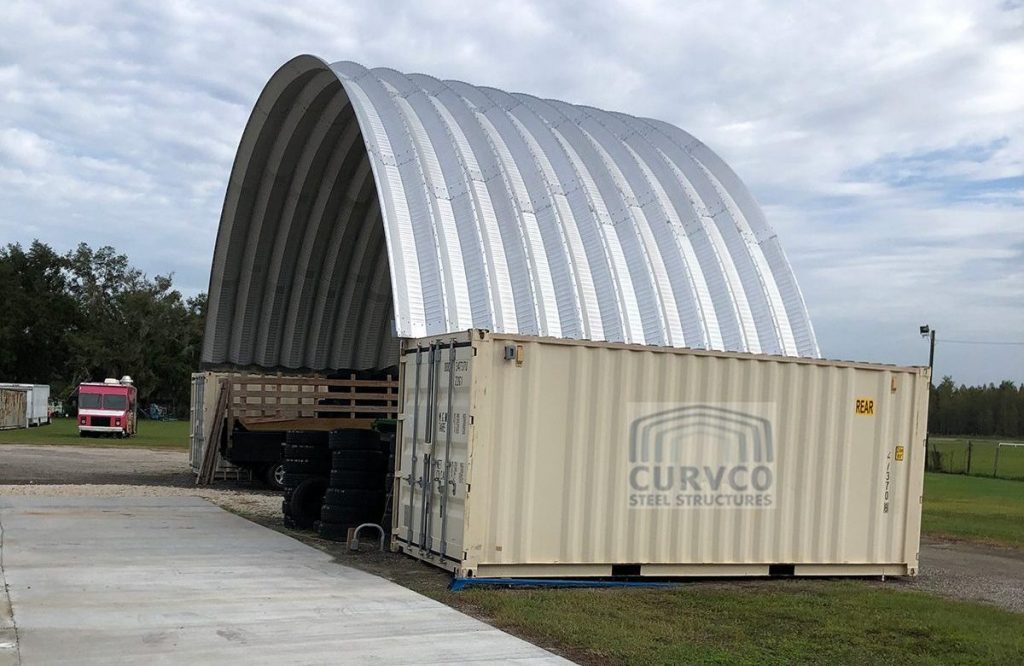 Using only one size nut & bolts, the steel arches connect to the plates with ease.
He also was intrigued by the buildings ability to be disassembled and moved to a different location on his property if need be.
As his business continues to grow he will require more room for coverage.
The best part is he can simply add two more containers and increase the number of steel arches to occupy those dimensions. Adding length to any of our styles is easy to do!
Overall, Mr. Nicololff was impressed by the knowledge our building specialist was able to bestow on him about how versatile our Container Kits are using his 30 years of experience working in the steel building industry.
Curvco's shipping container roof systems are the best on the market and require little to no upkeep or maintenance which allows the business owner to concentrate on what's important.