Curvco steel garages offer an affordable alternative to monthly RV storage rentals. Instead of paying hundreds of dollars a month storing your RV, you can put that money back into your pocket. All you need to have is a steel garage building.
What Is a Prefab Steel Garage?
A prefabricated steel garage is manufactures using only 100% commercial grade steel and has no wood members for framing. It is maintenance-free, durable and designed to last a lifetime. With Curvco garage buildings, you never have to worry about rust or the elements damaging it as they are made using only Galvalume steel and come with a 40 year rust perforation warranty. Curvco arch buildings are pre-engineered with all the components completely fabricated at the factory allowing for an easy fast assembly at your job site. They also offer the advantage of easy expansion by simply adding onto the length.
They can be as small or as large as you need, which is why it is a great RV storage solution. If you need RV storage buildings strictly to store only the motorhome itself, a 20 wide and 16 high S model straight-wall arch building is the most economical way to go. If you want to add some extra storage on the side for workbenches or shelves, then use the 25 or 30 wide P model straight side pitched roof arch style building.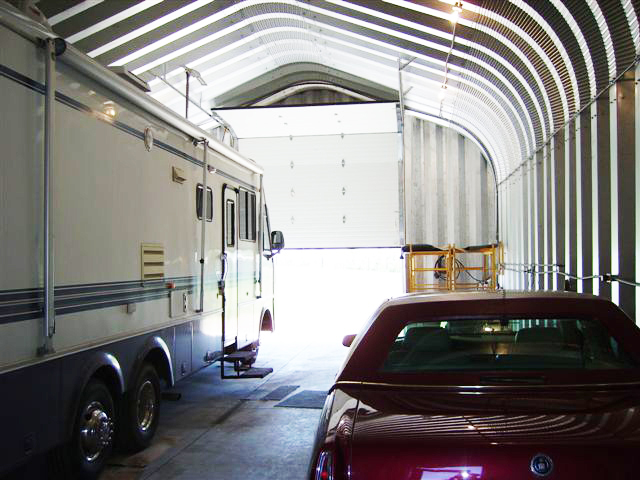 Curvco offers fast delivery and installation without cranes, making steel garages a simple, yet affordable option for immediate storage needs for those who own an RV.
Benefits of a Steel Garage for RV Storage
Protection from the elements – When you store your RV in a steel garage, you protect it from the elements. Rain, sleet, snow, wind, and the relentless Southern USA sun can all wreak havoc on an RV. Don't let them deteriorate your investment. You can increase the longevity of the RV simply with a steel shelter that provides shade. This can save you a lot of money in repairs and replacement throughout the lifetime of the vehicle.
Steel garages are easily insulated and ventilated to keep condensation or moisture out. This is important to the interior of your RV as well as the exterior. The drier the environment for your RV storage, the less the maintenance your vehicle will require and the longer it will serve you.
Keep it looking new – You not only care about how your RV function, but you also care about the way it looks. A steel RV shelter keeps your RV clean, which means it will stay looking new for a long time. You'll save time, too. You won't have to clean it as much when it's enclosed and you can be proud of its appearance when you hit the road!
Increases your Property value – If you build a metal garage building and locate it in your backyard or another property you own you it adds value as it appreciates your property. The cost to build your garage is quickly recouped as Curvco's offers the best RV storage building prices.
Protect it from theft – If theft is a concern for you, it won't be if you have a secured storage building. Curvco heavy-duty 14-22 gauge thick steel buildings lock up like a vault. The doors are also made with high-quality steel, so all you need is a good quality lock to keep your RV protected from thieves.
How to Get a Steel Garage for RV Storage
In just a few minutes, you could have a Curvco garage building started for you. All it takes is a phone call. We have many different sizes and styles available. Just give one of our knowledgeable and experienced steel building professionals the size and location and they will furnish a FREE price quote within 10 minutes. Within a few weeks, we can have your steel garage delivered and installed where you would like it, so you can conveniently use it for RV storage. In a short time, you will save time and money on storing your RV. Call us now.