As the need to feed the world's population grows, the American heartland has been evolving to meet the demand. Curvco has been proud to serve American farmers by supplying the highest quality agricultural metal buildings. Kansas is home to some of the world's largest farms and is consistently one of the largest crop producing states in the US. Dunlop farms in Parker, KS has been in operation for almost 6 decades producing mostly soybeans as well as some corn, wheat, sorghum and beef cattle.
In 2016 in Kansas there was a 6% uptick in acres of soybeans planted. With the modernization and enlargement of farm equipment has come the ability to mass produce crops with a small crew of workers. Over the past few seasons the world has experienced soybean gluts which have left storage bins overfilling across the country. Dunlop farms foresaw this and in 2015 began planning for additional storage.
Chris Dunlop contacted Curvco for a crop storage building to help solve their need to store 90,000 bushels of soybeans as economically and quickly as possible. He didn't want to go with a traditional storage bin because he wanted to be able to store his large farm equipment when it wasn't storing crops.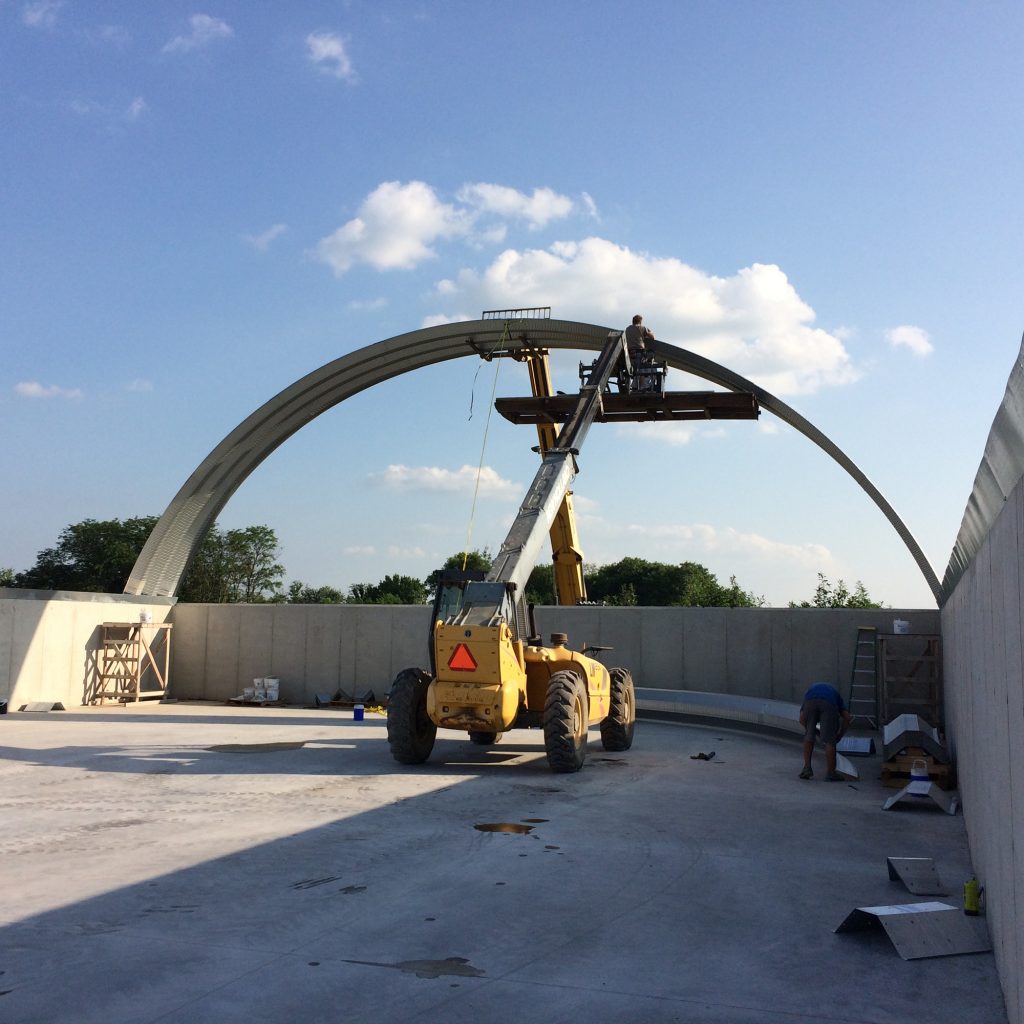 Arch buildings offer an economical method to attach a metal roof to a concrete wall.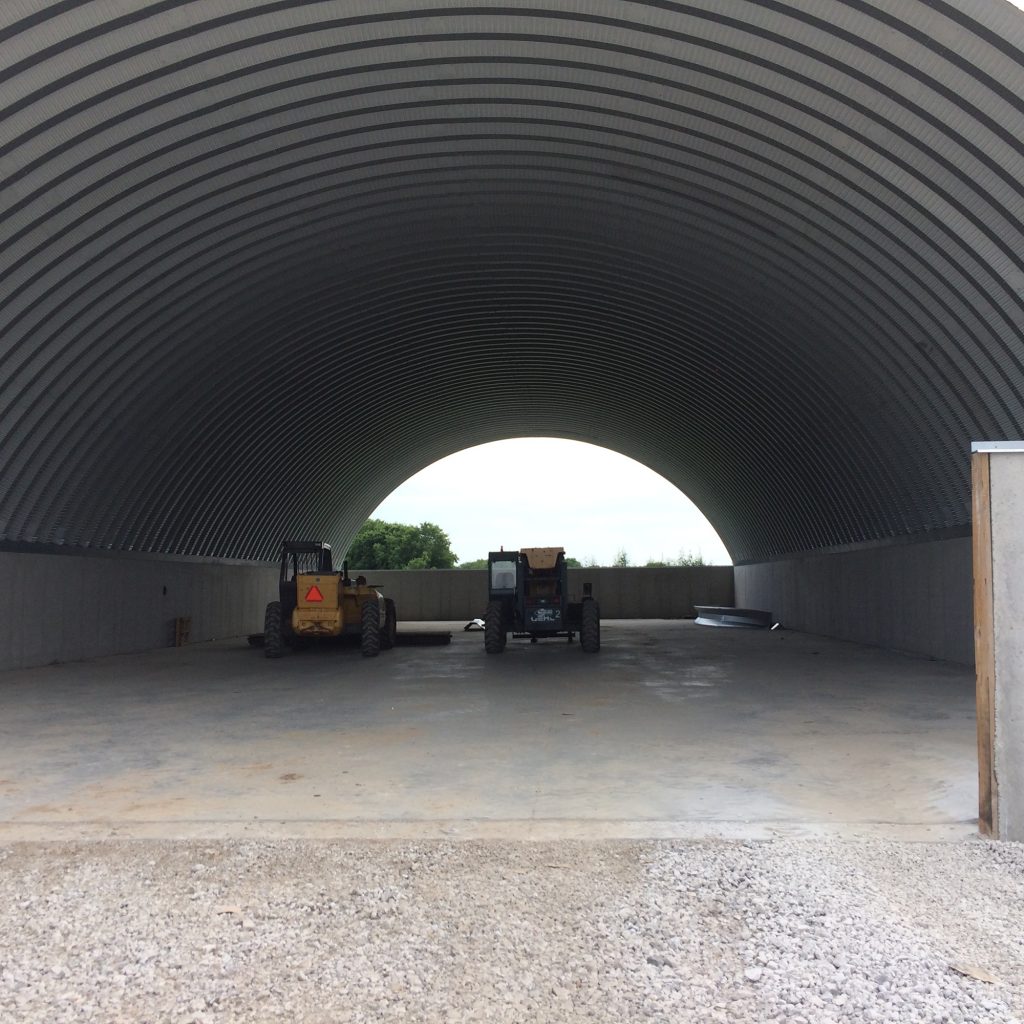 Steel building on a concrete wall is easily attached with connector plates.
They decided to go with a 60' wide Curvco Q-Model Quonset hut metal building that was 20' tall in the center and 150' long on top of an 8' concrete wall, which is made easy using connector plates from Curvco. Soybeans can be piled right up against the concrete walls and it makes the floor is easy to clean when they convert it to an equipment storage metal building each year. Chris was able to put the building up with his own workers and save tremendously on the labor cost.
On one end they built a large overhead door so that they could easily get their large combines into the building.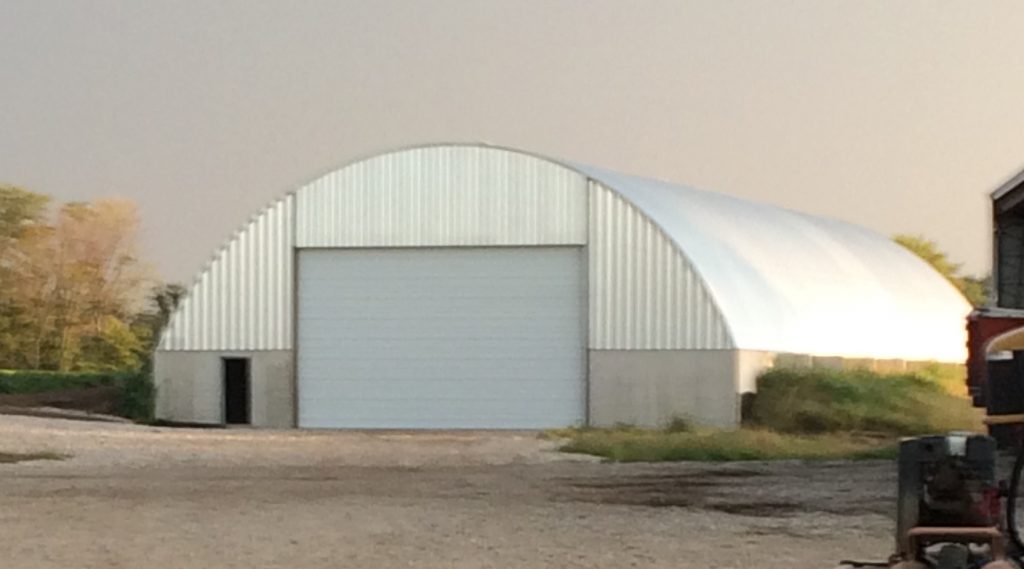 Dunlop Farms completed the construction of their arch metal building and overhead door system in time for the spring harvest in 2016. Now there is plenty of storage to handle the overflows in production and part of the year they are able to protect their harvesting equipment from the elements.