Curvco buildings are ideal for virtually any application because they are versatile and durable. Many customers often combine applications or uses within the same prefab arch building. One such customer is James Crawford of Missouri.
Mr. Crawford contacted us about 2 years ago for a commercial steel building he wanted to use on his property in Missouri. He was opening another location for his custom luxury boat manufacturing business. Curvco's builder services department supplied a factory certified contractor to do the installation. "A contractor from Curvco Steel Buildings came out to put up my building. I am very happy with the outcome!" said Mr. Crawford. The structure was a 60' wide, 100' long and 20' high Q-model building. This high profile model is great for workbenches, racks and room to work along side of the walls without wasting any space.
Curvco steel buildings can be easily customized with special design features and accessories for many different uses. Mr. Crawford had two 14'x14' overhead doors, a walk door, windows and 4" insulation installed. The overhead door clearance allows the boats to move in and out of the facility while on their trailers. The insulation offers an R-13 insulation factor and this combined with the energy efficient shape of his building will reduce his energy bills by 60% or more.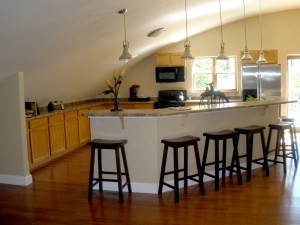 A second floor office, recreation area and apartment were installed, as well at little cost. In the upstairs area Mr. Crawford has an office to hold meetings with his clients and employees. The interior finishing work was beautiful as the sheetrock followed the contour of the building to highlight the curved ceiling for an architectural effect. The apartment style loft offers close getaway from the stresses of the workday and is complete with bar area, kitchen and a place to lounge. This dual use, manufacturing business with upstairs lounge and corporate apartment, resulted in an excellent display of the multi-use feature that Curvco arch buildings offer.