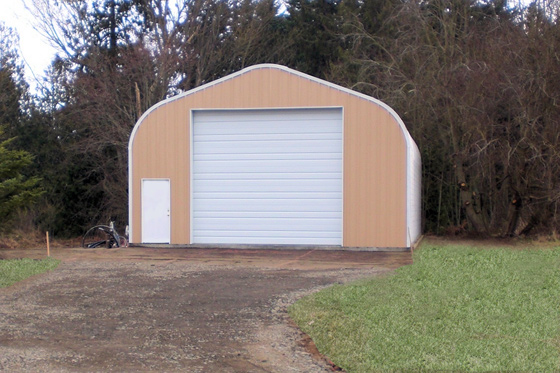 Curvco Steel has always been a leader in thinking about the well-being of their customers first. That's why we strive to make your life systematized and fulfilled and provide you handy expertise in the industry of storage systems.
We are known for providing tailored storage solutions for day-to-day problems. With the specialty to customize any steel structure, we offer a wide range of sizes and models.
The main purpose of the team at Curvco Steel is that it provides individual attention and comprehensive detailing to each of its customers. Therefore, once any prerequisite from the customer has come, our team at Curvco Steel will reach the customer's place to understand the real requirement and reform the plan as per the customer convenience and requirement. We highly ensure that the customer is satisfied and happy with whatever they receive in the end.
In short, Curvco Steel is the place where the storage need of every customer is fulfilled. Whether you're in the hunt for a small 20X30 storage building or a large span commercial building, we are always here to assist you with your storage needs.
One Place for All Storage Needs
We have over 38 years of experience with the metals industry offering enduring solutions to boost productivity. Here at Curvco Steel, get standard arch steel buildings, making them perfect for residential use and can be utilized as a garage to safely store vehicles. Get large storage buildings that are perfect for commercial usage and can be utilized as a plane hangar to safely store air-crafts or as a tool storage facility to safely store heavy-duty machinery.
In brief, the Metal Building Kits from Curvco Steel Buildings can be utilized for a wide variety of applications, which include –
Storing personal items
Commercial & industrial storage
Bulk Items
Salt, Hay & Grain storage
And a lot more!
In fact, the steel structures from Curvco Steel can even be designed to house livestock. Let us help you cover your possessions with tailor metal storage kits for any storage need. Built with top-notch steel systems, each prefabricated storage buildings is designed to meet your exact specifications.
One thing we can ensure that we produce only something that is wisely and smartly manufactured. We offer comprehensive storage solutions as per the customer product.
Here at Curvco Steel Buildings, a team of professionals does thoroughly understand what the customer product is, therefore, we comprehensively design a storage solution to save your time and space. We ensure that whatever we do is done with the customer's requirements in the mind. Most importantly, it is carried out in a pocket-friendly way.
Join hands with someone who has experience in the industry and get quality of the materials going into our arch steel buildings and affordable storage solutions over other traditional building practices. Working with us will help you realize how straightforward and east it is to build.
Prefabricated Metal Storage Buildings
Prefabricated metal storage buildings are ideal for those looking for flexible and cost-effective building solutions. Extremely durable, and almost maintenance-free, pre-engineered steel and metal building systems can be tailored to get any desired appearance or functional use. Most importantly, pre-engineered steel and metal buildings remarkably minimize construction times.
Durability – The durability of a pre-engineered steel or metal storage building is high. These buildings can easily deal with the elements – from heavy snowfall and rains to high winds or even earthquakes and tornados. Above all, steel storage buildings are non-combustible, thus, they can't be destroyed even by fire.


Flexibility & Versatility – Since pre-fabricated steel or metal structures have no interior columns and that's why their interior arrangements are much more flexible as compared to conventional buildings. Moreover, a pre-engineered steel building has no limit for maximum size, which means that it can accommodate a variety of applications.


Quick and Easy Assembly – Unlike the construction of the conventional building, which can take so many months, assembling pre-engineered steel or metal building is relatively easy and quick.

Therefore, if you're do-it-yourself kind of person and look for easy to assemble metal storage building solutions, then look no further our metal storage kits. Nevertheless, we're always here to help you with the assembly process. If you encounter any problem, all you need to do is to give us a call and get your issues resolved on an immediate basis.


Cost-Efficiency – Unlike conventional construction, there are rarely any delays in a steel or metal building construction procedure. It's quite rare for the assembly of a prefabricated steel or metal storage building to incur any additional costs.


Energy Efficiency – Metal storage buildings enable much better insulation than conventional buildings. This improved energy efficiency can remarkably minimize cooling and heating bills.


Low to Zero Maintenance Cost – Getting a pre-engineered steel structure will not only help you reduce your initial investment but a maintenance cost, too. Unlike wood and concrete requiring regular maintenance, the metal or steel structure is very strong and doesn't tend to corrode even after several years of utilization.


Portable – Businesses requiring working or operating on remote locations with the constant movement of offices, these metal or steel buildings are ideal for their use. These structures can easily be disassembled and relocated to another construction site for further use. Since the pre-engineered buildings are exceptionally strong, their movement doesn't spoil the actual structure of the building.

Here at Curvco Steel, tailor metal storage buildings can be designed for unique applications. Being able to utilize 100% of their interior space gives these arch style buildings a significant advantage.

Thus, when you consider metal storage kits from Curvco Steel, you pick a building type maximizing the utilization of space, which means you get unmatched storage capacity. Above all, since pre-engineered steel buildings are designed to order, you can acquire the dimension that ideally meets your specific storage needs.
Why Choose Curvco Steel Buildings?
Curvco Steel Buildings is highly recognized for its unparalleled services and quality. Our products are some of the finest storage solutions available, ensuring several benefits to offer.
Strongest and most durable storage solution on the market
Engineered to withstand the most extreme weather conditions
No possibility of wrapping or rotting.
Ability to use 100% of interior space
Perfect for do-it-yourself and no special tools or costly rental equipment


What makes us more special is the superlative customer service. We have a "Perfect Care" customer service program that ensures each customer is fully happy with the result of their building process. We provide storage solutions to guarantee proper and efficient space utilization for the products customized to meet the need of each of our customer and their storage requirements.
Looking for maximum space, maximum protection, and maximum benefits at a reasonable price? If so, then look no further from Curvco Steel Buildings. It is the place where every individual can get the best deal for their storage needs.
Budget-Friendly Metal Storage Buildings
Curvco Steel is the right place to get storage solutions that won't put a hole in your pocket. There's no secret that every individual hunts for the most affordable solution, be it for storage or anything. For the lowest price on a maintenance-free, dependable pre-engineered and durable storage building, calling Curvco Steel is the best thing to do.
You can give us a call anytime or fill out our online metal storage pricing quote form with your specific requirements. We will revert back to you as soon as possible.
Encounter a Problem? No Worries
Our technical service and customer service representatives are always available to resolve any problem you may experience along the way. We provide a 24-hour toll-free hotline number to each customer so that you can contact us anytime you face any issue while working on their buildings.
Let us help make your metal storage building project an accomplishment with a hassle-free and seamless experience.