Arch Steel Buildings delivered to North Carolina
In North Carolina arch metal buildings from Curvco have been going up for almost 40 years. Our buildings have withstood the toughest snow and wind conditions because of the superior design and the heavy gauge steel used in our prefab metal arch buildings. Curvco Steel Quonset hut building kits are designed to shield your valuables from the heavy snows in the mountains near Asheville and the hurricane force winds that hit Wilmington, the Outer banks and Elizabeth City. When hurricane Hugo marched right through the state all the way North of Charlotte, residents were shocked to see every Curvco metal building in NC still standing amongst hundreds of collapsed structures.
Curvco steel arch buildings come in five models catering to your taste and what you are going to be using the structure for. The Q-Series is a round roof building or Quonset hut which carries the best wind and snow loads and they are the most economical. If you need plenty of height at the sidewall our S-Series goes up straight before the arch begins. If you want a garage look, our P-Series has a 4/12 pitch and is perfect for residential applications at great building prices.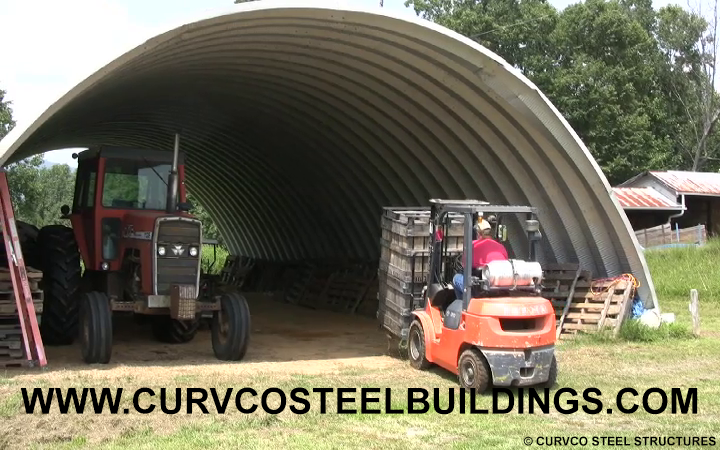 Curvco metal farm buildings are versatile and can be used for virtually any application. Nubin Green purchased his building from Curvco in Walnut Cove, NC over 30 years ago for his agricultural business. Initially he used the building for equip storage. It was then converted to store pine needles for the architectural landscaping market. He later again converted the building to store his exceptional sweet potatoes.
We supply huge steel Quonset hut buildings in rural North Carolina for agricultural use on soybean and cotton farms to store large combines and equipment. If you live on one of the rivers, lakes or by the coast and own a boat, a Curvco metal arch building is the perfect solution to store it and your trailer at prices you can afford. We have worked with several municipalities and state agencies in NC supplying structures from small industrial buildings to cover generators to fire stations and storage garages for municipal vehicles. Curvco has also done business with several Fortune500 companies in NC supplying industrial and commercial steel buildings for a wide variety of uses. Whatever your building's application, give us a call at 1-800-748-7188 to speak with a friendly and knowledgeable building specialist!