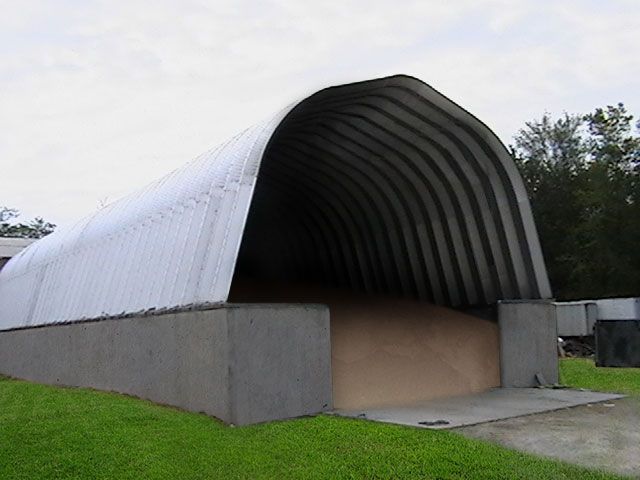 Salt application aids in keeping roads deiced during winters. Therefore, salt storage buildings have become a necessity for every region experiencing temperatures below freezing. After all, if there is no salt storage structure, then the salt stockpiles ubiquitously would dissolve, and bunch together. Moreover, they become totally useless upon exposure to rain and moisture. Even though hard-walled storage structures have conventionally been utilized for salt storage, their creation/ construction has become an expensive process that isn't economically feasible, sometimes.
That's why you need a better solution. Luckily, you're in the right place where cost-effective, environmentally conscious and an enduring solution is offered in order to maximize the lifespan of your salt stockpiles.
Built-In a Way That Last Longer
Front runners in the salt storage industry for 38 years.
At Curvco Steel Structures, we offer a wide range of salt storage building solutions. Trusted by Government agencies and municipalities across the country, we have been designing and manufacturing salt storage buildings for over 38 years. We take pride in our industrial arch steel structures that help our each and every client to meet their salt storage requirements
Custom salt storage building solutions enable our customers to be better prepared to deal with hazardous road conditions during harsh weather events.
In most states, the EPA requires these steel structures to be enclosed, protected and stored in order to avoid the contamination of the waterways and groundwater. With a Curvco Steel salt storage building solution by your side, you can save yourself from the hassle of these elements getting in/out. We manufacture steel buildings that offer high durability. Most importantly, they offer maximum resistance against extreme snow loads, hurricane rated winds and heavy downpours.
The reason we put more emphasis on steel buildings rather than on wood is that steel has two incredible benefits – lighter weight and strength. In fact, some buildings like steel arch structures use a steel roofing system and solid steel walls. That's why these buildings are extremely durable that last longer. Above all, maintenance is low or zero with steel buildings.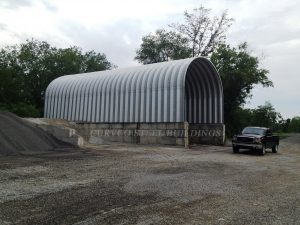 Curvco's salt storage buildings keep snow and rain off of stored materials, eradicating the chance of salt leaching out and getting into groundwater, wells, and streams in regions around the community.
We have a team of knowledgeable and experienced engineers who are great at customizing structures to perfectly meet any deadline or budget.
Prefabricated Salt Storage Buildings – For Easy & Quick Construction
Curvco salt storage buildings are prefabricated that enables for easy and quick construction. Whether you're using an eco-blocks or a concrete wall, the arches simply get put on top and perfect for the ideal environment to protect and store all your salt for the winder.
Prefabricated buildings can be easily mounted directly to the ground. In most cases, they can be bolted down on top of 6'-8' concrete walls. These concrete walls are either outlined and poured or made from big pre-cast interlocking concrete blocks, generally used to retain walls. The interior of the prefabricated roof system can be sprayed with a protective coating for extra protection.
There's no secret that prefabricated buildings are in the trend and it's for good reasons and we believe in following the current trend.
It's the better economic option- Prefabricated construction is inexpensive and that's a major advantage. In addition to that, prefabricated salt storage buildings take less time than conventional construction.


Mobility – The mobility of a prefabricated arch steel structure is not only restricted to the delivery at the construction site. If you want to, you can disassemble the whole structure and shift it to an entirely new location.  As a result, it saves money, construction effort & raw materials.


Consistency – Factors such as weather, independent contractors, uneven craftsmanship, etc generally affect the quality of any regular building, which results in irregularity. On the other hand, there is no such thing when it comes to prefabricated buildings. Unlike on-site construction of regular buildings, all sub-assemblies of prefabricated buildings are constructed under a uniform, controlled environment, ensuring consistent quality all through the structure.


Eco-Friendly construction – The production of steel components important for prefabricated buildings does need a lot of energy consumption at the manufacturing site, but as compared to conventional constructions, they are a better eco-friendly solution, both in the short and long-term.


Better safe option – Whether it is about the safety of the building or the workers after construction, prefabricated salt storage buildings have no competition. The engineering and materials itself have enhanced dramatically to make prefabricated buildings as strong as or even more than well-made conventional buildings. 

Government agencies and municipalities generally use their own labor when it comes to assembling the prefabricated salt storage buildings as the construction process is so straightforward. All of the panes are pre-punched and utilize only one size nut and bolt, keeping the time spent on constructing the building to an extreme minimum.
We are always here to help you with any doubts you may have. All you need to do is to contact our technical service department, which is available seven days a week.
If you're in the hunt for the best DIY building kit solution, then look no further from Curvco's Quonset hut storage buildings – portable, durable and built to last longer. We deliver an outstanding 40 years warranty on corrosion and rust.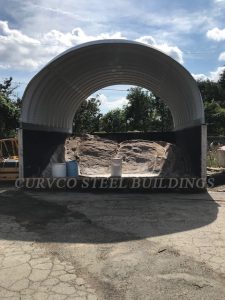 Salt Storage Buildings Built With Your Needs in Mind
Curvco arch style salt storage structures are perfect for storing road deicing salt. With their solid, prefabricated components and excellent corrosion resistance, our salt storage buildings are built from the top down to offer the best in –
No matter what size of salt storage building you're looking for or what type of handling accessory you need, Curvco Steel Structures can provide an ultimate solution to help you –
Curvco salt storage buildings have proved their value in some of the harshest weather conditions America has to offer. In short, our arch steel buildings are the most cost-effective and efficient way you can utilize to protect your salt investment.
We're proud of ourselves as we leave our every customer contented with heavy-duty steel.
Salt Storage Building Prices
There is an availability of several different models and widths. You'll be pleased to know that we can even custom manufacture a size to meet your pre-existing wall or slab at a reasonable price. Above all, they can be designed with/without ends without losing the structural integrity and reliability of the arch building spans.
Our salt storage buildings prices depend on the size of the structure you want. We can ensure that our prices are the most competitive in the salt storage building industry. We take pride in ourselves for manufacturing arch style buildings in America, utilizing only the highest grade USA steel known as Galvalume and heavy-duty, corrosion-resistant bolts.
If you've any further doubts or want to discuss more on our salt storage building prices or how we can help you, please feel free to contact our technical service department. We are always here to assist you with your industrial steel building requirements.
You can either call us or fill a quick online price quote that costs you nothing. We would love to hear from you and help you to provide an exceptional experience!