Quonset Hut Buildings Origins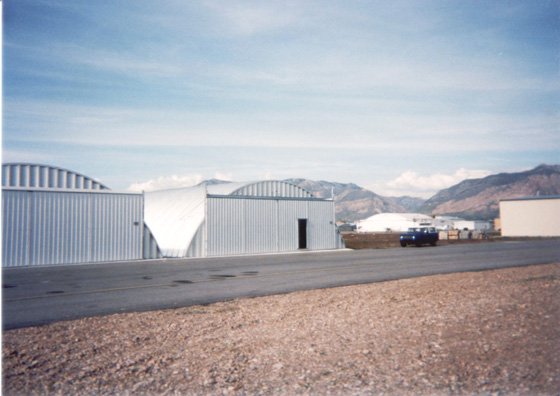 Curvco arch steel buildings design has its roots in the Quonset hut structure developed by the US military over 70 years ago. These arched structures with their unique round building design have a long history of reliable durable service.
During WWII the US Navy needed a versatile knockdown (unassembled components in a prepackaged kit) prefab building that could be easily shipped anywhere in the world and constructed with general labor.
This led them to select a structure that would later become known as a Quonset Hut whose name was derived from the location where they were first manufactured, Quonset Point, Rhode Island. These huts had a semi-circular or cylinder type shape and their basic design was duplicated from the Nissen hut that was developed during WWI by the British primarily for use as barracks. The Navy found them particularly appealing because the interior floor space of the building was free of any support beams so they could maximize its use.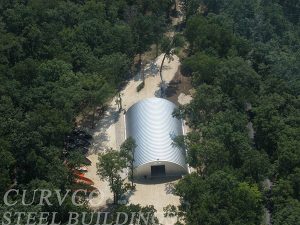 The first version of the Quonset hut building was manufactured for the US Navy and had dimensions of 16' wide x 36' long. The structure consisted of steel framing members that were made of "T" components that were 2"x2"x ¼" and were referred to as the ribs that had an 8' radius. The skin or sides of the structure were corrugated sheets with a galvanized coating that was changed in later versions to olive or camouflage to make them less visible to the enemy's aerial forces. The interior was insulated and had a thin pressed wood liner panel and while originally their floors consisted of an interlocking tongue and groove wood, it was eventually replaced with plywood. The most popular design evolved to be 20' wide x 48' long, had numerous different interior layout plans and was available with optional 4' overhangs (that were later eliminated) to serve as a rain or weather shield. For warehouse and other applications that required a larger floor plan, a 40' wide x 100' long model was introduced.
The Most Advanced Quonset Hut Manufacturer
Since the 1960s, the owners of the Curvco arch metal buildings manufacturing facility have adapted the original Quonset style steel building design into a more modern structure while capitalizing on the extreme strength that an arch style building offered. The current engineering and technology have improved upon many features including using a heavier gauge and higher tensile steel in the panels with deeper corrugations and panel overlap redundancy to produce a stronger building. These improvements allowed for the elimination of the interior frames (ribs) and increased the clearspan widths of the buildings to up to 140'. As a result of the factory's continuing research and development, many other patented innovations on the Quonset style metal building have been implemented including extremely high sidewalls and hurricane wind rated endwalls.
For the lowest quonset building prices on a maintenance free, durable and dependable prefabricated storage building, call Curvco today!