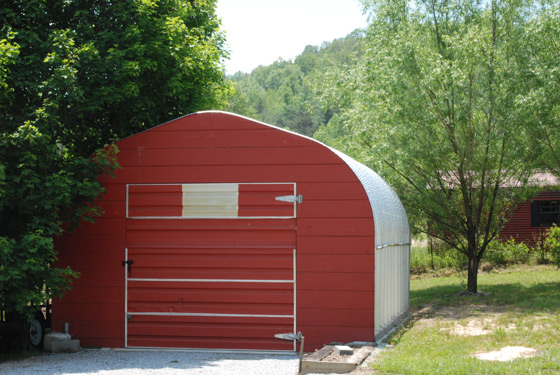 Curvco metal sheds offer the strongest shelter for any storage application. Whether you require a residential backyard storage shed for personal items or multiple industrial utility buildings to protect tools and equipment at different job sites, Curvco's prefabricated sheds provide the ideal answer to meet any storage building needs.
Unlike cheaper wood, tin or plastic storage building kits that quickly deteriorate, every building is manufactured at our plant using only heavy gauge Galvalume® steel and designed to last. Each Curvco structure comes with a 40 year warranty and offers the best protection against the harshest elements and needs no maintenance.
Get a custom online quote on a metal shed now!
Or call 800-748-7188 about simple to assemble storage for your backyard or an industrial application that can be shipped immediately
These steel shed kits are designed for the build it yourself homeowner as they are prefabricated, come with complete simple instructions and most small models can be put up with only a couple friends over a weekend. Choose from our optional selection of colors to match existing buildings or customize your own endwalls for added décor. These versatile prefabricated sheds span from 8' up to 140' wide and the length can be increased in 2' increments.
If you have a preexisting concrete slab or a specific industrial application, the factory can custom manufacture to accommodate exact size specifications and site conditions. Curvco metal sheds are ideal for permanent or temporary use and can be engineered to be portable if they need to be moved for industrial or commercial purposes.
Do you need a building for a custom site application? Is it time to get that clutter out of your car's garage or clear away that rickety eyesore wooden shed that has fallen apart and no longer performs its purpose? Then contact Curvco today at 1-800-748-7188 and let us show you the best durable storage building anywhere at the most affordable price.