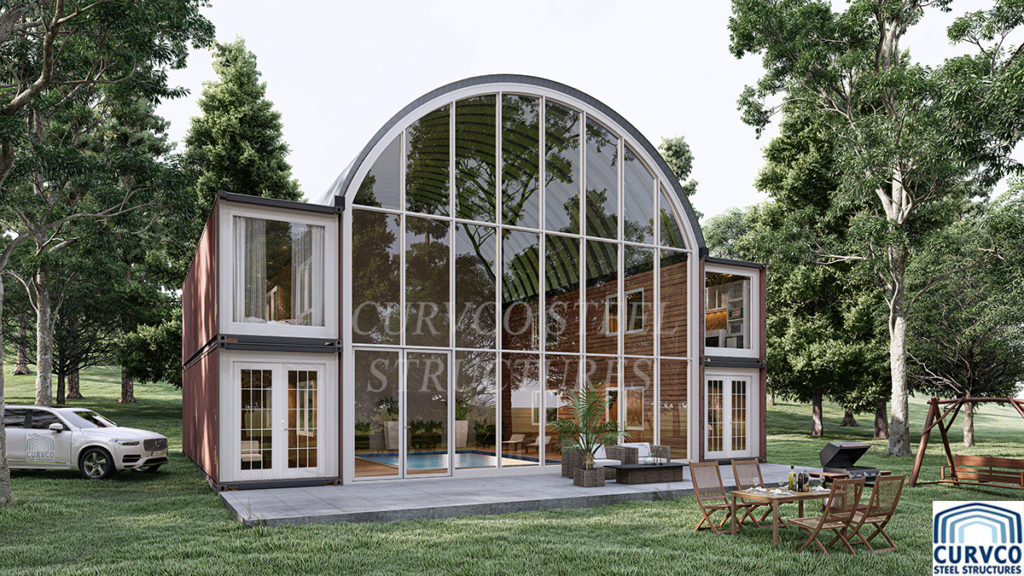 Curvco arch metal roofs can be attached to many types of foundations including concrete walls, Eco-Blocks, and Shipping Containers.
Our heavy-duty cost-effective metal roofing systems offer simplistic solutions to covering containers. Metal roof systems are typically used for covering barns, cars, shipping container homes, and retail locations. Most customers choose our Quonset roof design which offers clear span interior space.
In most cases, a steel arched roof is a permanent structure but with our roof system, the customer can use the kit until the application demands a new location. Simply disassemble the kit in the same fashion you installed it by stacking the steel arches upon each other making them compact and ready for transport.
Every corrugated metal roof can be customized to fit the details of your project. We provide several options for covering a space. A Quonset-style roofing system is the most popular model sold and considered the best bang for your buck! All of our available models are offered in roof kit designs including Q-model, P-Model, G-Model, and the S-Model.
Architects and engineers alike love using the simple concept of a steel roof system. They require little to no maintenance, are easy-to-assemble, and can be manufactured in heavy gauge steel to meet and exceed local snow and/or wind speeds.
Curvco's prefabricated roofing systems can easily add architectural accents to any structure. Not only are they strong but they are built to last. An arch metal roof is coated in galvalume, giving it the strength and protective compounds it needs to last a lifetime.
Metal roofing systems are highly versatile and can be used across a wide variety of applications. Contact one of our building specialists for more information on constructing your very own arch metal roof.