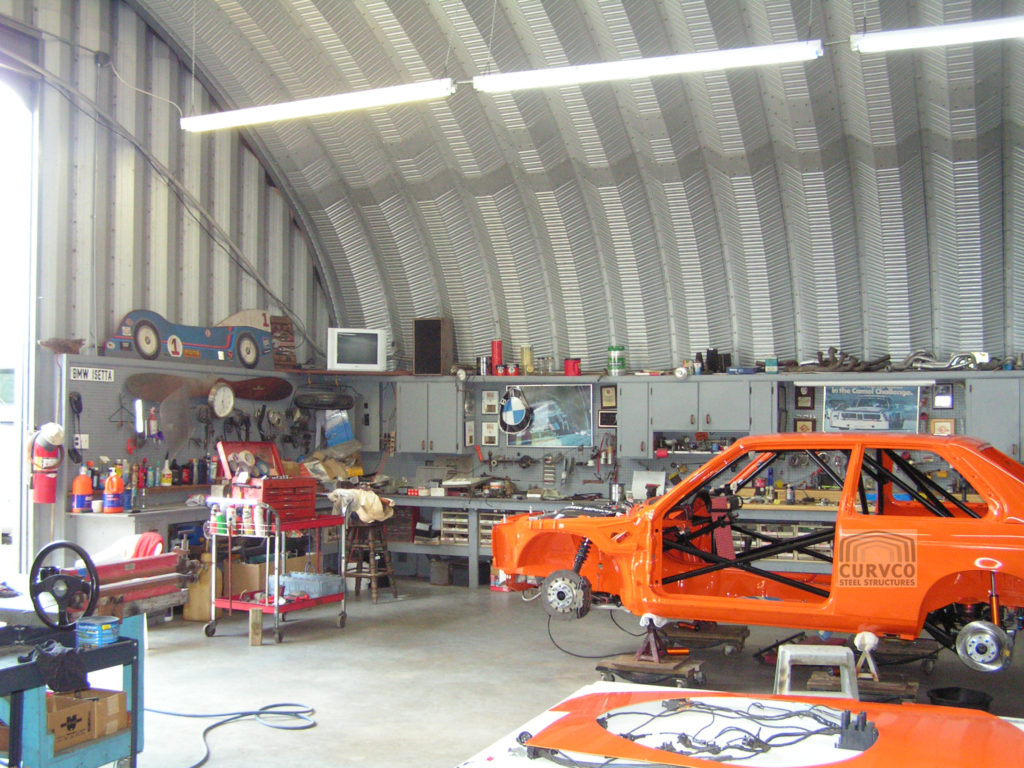 Are you tired of working on vehicles in the harsh weather? Curvco Quonset Garages offer exceptional Steel Building Kits specifically for your automobile and auto body repair shop building needs. It is no wonder our steel garage buildings are the most popular among auto mechanics, car enthusiasts, classic car collectors, and car kit builders.
Steel Buildings are used for
Curvco Steel garages are easy to assemble, which saves time and money. The nature of our pre-engineered design allows the customer to easily bolt together the arches. No drilling or welding is required to assemble our steel garage kits.
Our high sidewall models allow you to maximize all your space. Set up your shop the way you need it to work for you. Whether you have a lot of expensive tools, air compressors, lifts, or paint booths, Curvco Steel Buildings is the right solution for storage. Our garage kits can be ordered and expedited for immediate delivery. Widths range from 10' up to 140' wide and lengths are endless.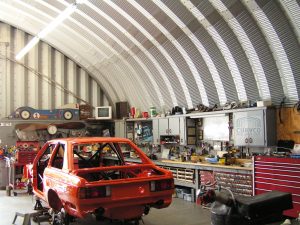 Building a residential steel garage, car dealership, or auto body repair shop has never been so simple. With a wide variety of models, sizes, and Energy Star colors, we can accommodate any type of garage building plans.
Keep in mind, we use heavy gauge steel, not lightweight material like carports. Our Steel Buildings are made with high endurance American grade Steel and carry a full 40-year warranty. Once your steel building is erected, it is 100% maintenance-free.
As your hobby or business grows, so will the demand for additional space. All of our building kits are prefabricated so that future expansion will not cost you an arm and a leg! Simply remove your front or rear endwall, continue the footer for however much more length you require. Once done, simply put up the additional length and re-install your original endwalls. It's that easy.
Quonset huts are the most popular style of auto-body repair shops. Our kits provide a long-lasting history of strength and durability and can be erected quickly in the most cost-effective way. Curvco's do-it-yourselfers constantly surprise us with a unique sense of know-how. From beginner to expert we can support your dream of owning an American made Auto-body shop.
Every structure is engineered to meet or exceed your requirements. They are hurricane rated and can withstand heavy snow loads and even seismic earthquake activity. We go through a strict process of making sure you get a high-quality metal building that will withstand the test of time.
Auto-Body Repair Shop Prices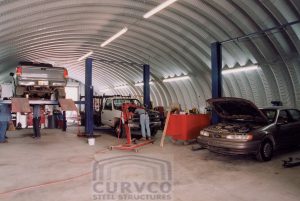 Cost includes exceptional customer service that can't be beaten and we can accommodate 1-3 car garages or larger with a wide variety of options.
The endwalls can be customized to fit a garage door or a wide opening of your choosing. Standard openings on these buildings include 8×8, 10×10, 12×12, and 14×14.
Although the factory can manufacture any size appropriate to the width of the structure.
With an auto body steel garage building you will get foundation manuals, erection manuals, and computer-aided design plans which help guide you through the simple construction process.
By speaking to one of our building specialists, you can determine what size building will suit you best for your application. Contact Curvco today for pricing on a metal garage kit. Let us show you how American made excellence in manufacturing is stronger than ever!