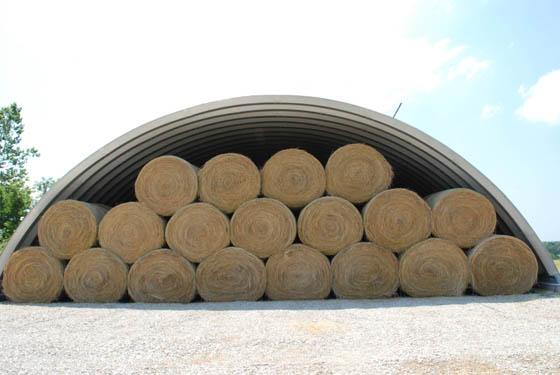 Curvco hay storage buildings have been recognized by agricultural and equestrian communities as the ideal farm building system for protecting their hay and other commodities. Our buildings are the most economical way to protect hay from being rendered worthless or destroyed by rot, mold, contamination insects and fire. Whether you need round or square bale hay storage barns, Curvco has a wide array of models to select from to suit any requirements.
The simple build it yourself pre-engineered agricultural building design make Curvco hay storage barns easy to construct and the most affordable solution. Since there are no rafters or beams in the roof, hay bales can be stacked without interference.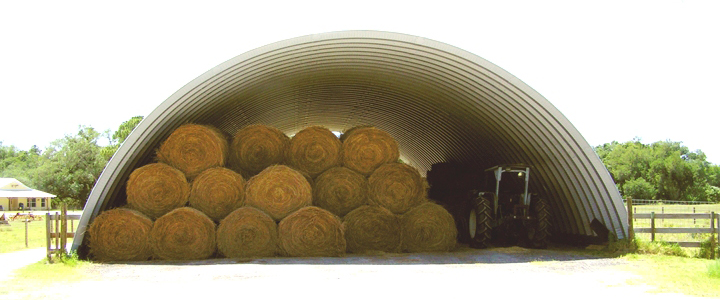 This allows you to maximize the amount of commodity storage with your building budget. Our steel hay storage buildings are made with galvalume steel which is virtually maintenance free. Every building is backed by a 40-year steel mill and manufacturer's warranty against rust perforations. They are designed to meet seismic conditions and are able to withstand the heaviest snow and severe winds. Curvco Hay Storage Barns are hurricane rated and approved for Florida.
Get a custom online quote on a hay storage building now!
Or call 800-748-7188 about agricultural models in inventory to keep your round and square hay bales dry and free of mold
The extreme structural strength of the Curvco building's design allows the hay building models to be constructed with completely open ends. Hay storage sheds are ideal for stacking 5' x 5' or 6' x 5' large round bales 3-levels high using the entire width. The open end design provides complete ventilation and avoids hay fires often caused by excessive methane.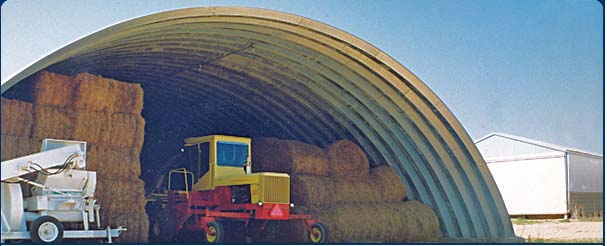 If you require higher sidewalls for stacking square hay bales right against the wall, our straight wall "P" or "S" models are perfect for this application. Many horse enthusiasts will use a Curvco hay cover arch building to combine their horse barn and hay storage in the same "P" Model building.
Our most popular hay storage solution is built using our Quonset hut model. Many of our hay storage buildings for sale come with our American backed 40-year warranty against rust perforations. Don't waste your space with a conventional building that intrudes on your interior workable space. Curvco offers many customizable features and designs which help create functional workspace for a fraction of the cost.
For the most economical and reliable hay storage Buildings contact Curvco today. Our building specialists will work with you to determine the most cost-effective model to maximize your building budget.